Madame Tussauds Berlin, Football stadium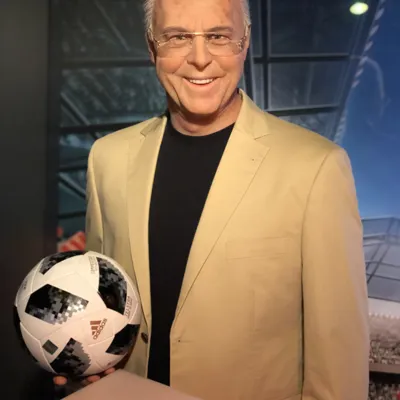 Facts about the football hero:
After several successful years at SC Munich in 1906, Beckenbauer became a regular player at FC Bayern Munich in 1958, where he had a brilliant career as a professional for the next two decades. From 1994 to 2009 he was the president of the association and since then he has been an honorary president. Beckenbauer was a member of FIFA's Executive Committee until June 1, 2011. After chairing the 2006 World Cup bidding committee, he also served as head of the organisation of the 2006 World Cup in Germany.
Franz Beckenbauer became one of the best footballers of all time. His successes: 1972 European Champion, 1974 World Champion and 1969, 1972,1973, 1974 with FC-Bayern and 1982 with the Hamburger SV German Champion. After the end of his active career in 1982, Beckenbauer was appointed coach of the national team in 1984.
As coach he became German champion (1994) and UEFA Cup winner (1996), with the DFB team 1986 runner-up and 1990 world champion. In September 2004, Franz Beckenbauer was honoured in Zurich with the Order of merit of the World Football Association FIFA. He was honoured and awarded numerous times, for example with the Silver Laurel Leaf, the Bavarian Order of Merit or the Grand Cross of Merit of the Order of Merit of the Federal Republic of Germany.