Madame Tussauds Berlin, Football stadium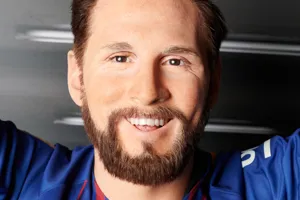 Learn more about the amazing footballer
Lionel Messi was voted "World Player of the Year" 7 times already and with that he owns more titles than any other player.

Already at the age of 16 he played in a friendly match in the professional team of FC Barcelona.

Messi kicked his way into the Guinness World Records with a total of 91 goals in one calendar year.

The talented young football player suffered from a hormonal disorder, inhibiting his growth. When he was 13 years old, his parents emigrated to spain, to give him the ability to have hormone therapy. The FC Barcelona paid for his treatment, seeing the great potential in him. He reached a height of 1,70m
(roughly 5,6 feet) and went on to play for FC Barcelona until 2021. He counts as one of the best football players of the world.