Madame Tussauds Berlin, Remarkable Women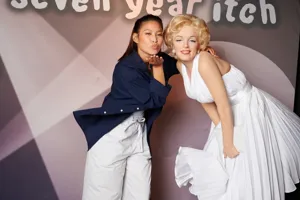 The mysterious life of Marilyn Monroe
Marilyn Monroe was born as Norma Jeane Mortenson, her name was later changed to Norma Jeane Baker. Her stage name consists of the first name of broadway star Marilyn Miller and her mother's maiden name: Gladys Pearl Monroe.

Marylin Monroe was considered a sex symbol of the 50s thanks to her curvy figure and platinum-blonde hair. In actuality her iconic hairdo was only dyed, Marilyn was in fact a natural brunette.

Some of her most famous movie roles are "Gentleman prefer Blondes" (1953), "Niagara" (1953), "The Seven Year Itch" (1955) and "Some Like It Hot" (1959).

The pose of the figure shows the famous subway scene from the film "The Seven Year Itch".