Madame Tussauds Berlin, TV & Film Stars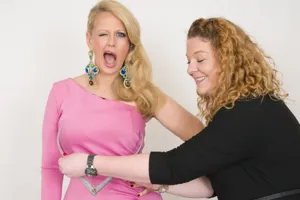 Barbara Schöneberger was born in Munich in 1974. The charismatic blonde is mainly known as a TV presenter. Additionally she worked as an actress in more than 20 TV and movie productions and published several music albums. She grew up as the daughter of the solo clarinetist Hans and his wife Annemarie Schöneberger in Munich. After high school Barbara Schöneberger first graduated from voluntary work at a Munich fashion magazine before she began studying sociology, communications and history of art in Augsburg. During her studies she worked at an agency for event marketing and had her first TV appearance with a guest role in a TV series.
Schöneberger gained her first TV experiences in the program 'Bube, Dame, Hörig' together with Elmar Hörig in 1998. Performances at the so called 'Harald Schmidt Show' and several appearances as a presenter in shows like 'Tie Break' and 'Weck up' followed. Barbara Schöneberger's first own program 'Blondes Gift' ('Blond Poison'), which ran from 2001 to 2005, meant her breakthrough and made her popular in Germany. In this program Schöneberger won a lot of fans because of her casual humorous and, above all, self-critical personality, which paved the way for further engagements. Afterwards broadcasts like the 'Schöneberger-Show' on ZDF and the 'NDR-Talkshow' followed. In addition to her participation in the celebrity edition of 'Wer wird Millionär' (German adaption of 'Who Wants to Be a Millionaire?'), where she won a million euros, she presents various formats such as 'Die 2 - Gottschalk & Jauch gegen alle' or 'Herbstblond' of the Cologne TV channel RTL. In addition to her work as a presenter, Schöneberger has already appeared in more than 20 TV and film productions. She has also published several music albums since 2007.
Schöneberger was already nominated for several awards, such as the German TV Prize (2002) and the Adolf-Grimme Prize (2003) in the category Entertainment, winning the New Faces Award (2002), the German Comedy Prize (2007), the German TV Prize (2016), a Romy (2016) and a Golden Hen (2016). Barbara Schöneberger is voluntarily engaged for the German bone marrow donation and acts as a longtime ambassador for the international child care center 'terre des hommes'. For her involvement in this charity for the rights of distressed children, Barbara Schöneberger was awarded the Order of Merit of the Federal Republic of Germany in 2015. Together with her husband, her son and her daughter Barbara Schöneberger lives in Berlin. At Madame Tussauds Berlin you now have the unique opportunity to stand in front of the camera together with the wax figure of the versatile German presenter. Book your tickets now, visit Barbara Schöneberger's wax figure and enjoy an unforgettable experience only at Madame Tussauds Berlin.