Madame Tussauds Berlin, World politics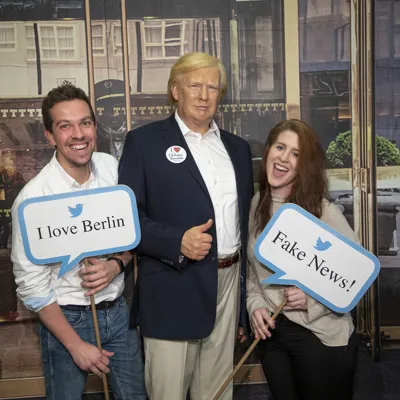 Interesting facts
1946 Donald Trump was born in New York. He started his own business with the financial support of his father. He renovated a hotel with the money, made a major profit and built up a significant real estate empire. Trump also has a penchant for the show business. His best-known and most successful project was the US TV show "The Apprentice", which even brought him a star on the Hollywood Walk of Fame. He also had some guest appearances or side roles in films and is co-owner of the Miss Universe Organization.
Three wives, five children. Since 2005 he is married to the Slovenian model Melania Knauss. His previously wives were American actress Marla Maples (1993 – 1999) and Ivana Trump (1977 – 1992). Trump, who rushes against Mexican immigrants, is the son of a migrant as well: his mother Mary MacLeod Trump is from Scotland. His paternal grandparents were Germans: The couple came from the south of Germany.
1987 he joined the Republicans and played with the idea to set up for the presidential election a year later. It didn't come to that. In 2001, Trump moved to the Democrats before he joined the Republican Party in 2009 again. In 2016, he won the presidential election against Hillary Clinton and became the 45th president of the United States.