Angelababy walks the red carpet at Madame Tussauds Hong Kong
Wednesday 7th February 2018
Madame Tussauds Hong Kong
What's New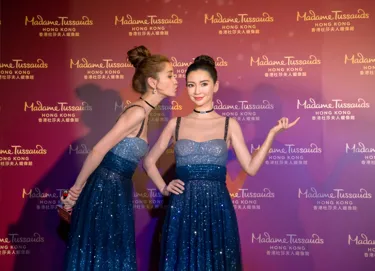 HONG KONG (February 7, 2018) Madame Tussauds Hong Kong today invited Angelababy (Yeung Wing) to unveil her world-first wax figure and became the first actress to join Fashion Zone. Angelababy wore a Dior glittering blue gown and stood side-by-side with her figure, attracting visitors from all over the world to meet her at The Peak.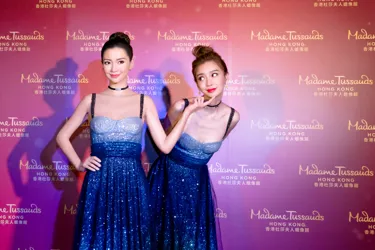 With the curtain opens, two identical Angelababy stood on stage with same poses and same smiles. All media and fans were surprised by the resemblance. Dressed in Dior's stunning starry night blue gown, the figure looks just as elegant as Angelababy herself. The figure stands with "her" right arm akimbo on "her" hip and left arm extended with raising index finger. Angelababy explained that she wants her figure can interact with visitors like friends and this teasing pose is to create a truly fun experience for everyone. She also shared sitting process on the event. Madame Tussauds sculpting team flew to Shanghai to meet Angelababy for a detailed sitting. Although Angelababy just gave birth, she remained her professionalism and communicated closely with the team. Angelababy said, "My part is quite easy when comparing with the team. They have to take reference from over 200 photos and measurements to create a lifelike figure. It is my pleasure to witness the unveiling of my figure. The figure is very impressive and it is my number 2!"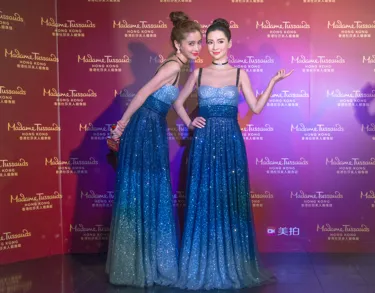 In close partnership with mobile application Meipai, Madame Tussauds Hong Kong launches an online AR interactive for the first time. Angelababy also uploaded a dancing video with "another Baby" and attracted numerous participants to join the campaign. On the event, Angelababy also invited fans to come to the attraction and dance with her figure. Being the first actress features in Fashion Zone, Angelababy showed how to take fashion photographs with her figure and visited the attraction to take a one-of-a-kind cover photo with her figure. The celebrity revealed that it will be the best and most remarkable photo shoot she has ever had.
Angelababy began her career as a fashion model in Japan at the age of 14 and starred in a variety of drama and movies include Love You You, Love O2O, See You Tomorrow etc., box office revenue exceeded 5.7 billion. In 2014, Angelababy received nationwide recognition for her acclaimed role in reality show Running Man China. She also awarded the Most Popular Actress at the 21st Beijing College Student Film Festival for her performance in Young Detective Dee: Rise of the Sea Dragon. In 2015, Angelababy starred in Mojin: The Lost Legend which generated 1.6 billion. She also won the 33rd Hundred Flowers Award for Best Supporting Actress for her role in this blockbuster movie. Angelababy's work in public welfare is an extension of her humble success. She is the WildAid Ambassador in protecting pangolins for two consecutive years. In 2017, she was appointed as Shu Shi campaign ambassador for WildAid and the Child Development Ambassador of China Development Research Foundation.
Jenny You, General Manager of Madame Tussauds Hong Kong, said "We are honoured to have Angelababy as the addition to the attraction. She is an excellent role model for everyone.  Like what she said, fans can feel free to come and visit her anytime you want. We can't wait to see the friendly interaction between them."