"Animated World' officially launches opening
Thursday 6th April 2017
Madame Tussauds Hong Kong
What's New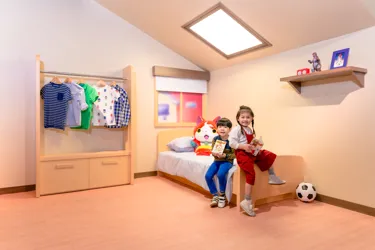 HONG KONG (April 6, 2017) The world's exclusive "Animated World" officially launches on 6th April, 2017, bringing famous animated characters and interactive gaming experience to visitors for all ages. Visitors are able to immerse themselves in the world of animation and explore the one and only star-studded journey at The Peak.
As one of the must-visit attractions, Madame Tussauds Hong Kong is committed to promoting a diversified experience and tempting visitors with a wide variety of preferences from "Historical and National Heroes", "Kung Fu Zone" to "K-wave Zone" etc. This time, Madame Tussauds Hong Kong worked in close collaboration with ALPHA Group Co., Ltd, Bliss Concepts Ltd., LEVEL-5 abby Hong Kong Ltd, Marvel Entertainment LLC to create this first animation theme zone. With the opening of Animated World, those world-famous characters will come to life. Visitors can star alongside their favourites animated characters and stand shoulder to shoulder with them. Remarkably, Madame Tussauds Hong Kong is the first brand in Hong Kong to cooperate with teamLab, the Japanese ultratechnologists. This marks teamLab's first public installation premiering here, at new Animated World! Visitors able to experience a 'more than wax' journey to Madame Tussauds.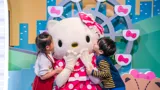 Brand - new animated characters on board
Apart from the existing characters McDull & Madame Mak, Marvel superheroes and Hello Kitty, Balala the Fairies and Yo-kai Watch have arrived "Animated World".
Keita, Jipanyan, Whisper, Fuyunyan and Hidabat from the well-known Japanese animation Yo-kai Watch appear in Keita's room. It is the first permanent area to employ Keita's room as setting.  Balala the Fairies is a famous animation in mainland China. It is also the first mainland animated character joins Madame Tussauds Hong Kong. Visitors can transform into a little magic fairies and protect the "Magic Fairy Castle" with Magic Fairy Shirley. Besides, settings of McDull and Mrs. Mak, Hello Kitty have revamped as well. McDull and Madame Mak are waiting visitors to take pictures with them inside the tramcar; Sanrio designs a new custom-made backdrop with Hong Kong skyline, inviting visitors to explore Hong Kong with Hello Kitty. Marvel superheroes Hulk, Ironman and Spiderman are ready to meet and greet visitors as well.
Over HK$10M investment in interactive gaming
With a total area covering over 2,300 square meters, Madame Tussauds Hong Kong spent 18 months to design and create "Animated World". Developed in close cooperation with talents from locals, Mainland China, Taiwan, Japan, U.K. and U.S.A, each area is well-designed and combined with interactive gaming to immerse visitors in their favouries animations. Building upon the successful opening of "Yayoi Kusama Gallery", "Animated World" will further witness the evolution and take Madame Tussauds experience to a whole new level, suggesting a different angle to explore the attraction.
Through virtual dressing game, visitors can become a little magic fairy with Magic Fairy Shirley. The new zone also features a spin-off mobile application game - Yo-kai Puni Puni. Visitors can get a chance to obtain the exclusive character – Jipanyan B. Moreover, teamLab introduces its interactive digital installation - Connecting! Block Town to the new zone, welcoming visitors to build their dream city with McDull and Madame Mak. It further determines Madame Tussauds Hong Kong's appeal across ages.
"McDull and Madame Mak, Marvel Superheroes and Hello Kitty are very popular in our attraction, the two new comers "Balala the Fairies" and "Yo-kai Watch" would definitely enhance guest experience. Therefore, we spent over HK$10M to create "Animated World", bringing a new level of immersive experience to visitors." Jenny You, General Manager of Madame Tussauds Hong Kong, commented. She continued, "Previously, we invited media, charity, family bloggers and trade partners to join the previews and received very positive feedback. The opening of "Animated World" further strengthening Madame Tussauds Hong Kong as a diversified attraction for visitors of all ages. We also launch a special promotion for Hong Kong residents. I wish everyone can spend a fun day out with family and friends at Madame Tussauds Hong Kong.