Renowned Korean actor Park Hae-jin makes special appearance at Madame Tussauds Hong Kong
Monday 13th March 2017
Madame Tussauds Hong Kong
What's New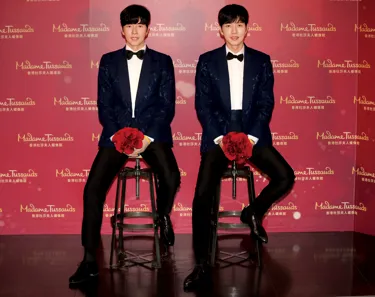 HONG KONG (13 March 2017) Following a hiatus from attending events in Hong Kong, well-known Korean celebrity Park Hae-jin today unveiled his wax figure at Madame Tussauds Hong Kong with cheering fans who are selected from official social media campaign for the special occasion. Park Hae-jin's figure officially arrives K-wave zone and will be on display for three months. Fans and visitors can stand shoulder to shoulder with their favourite idol at The Peak.
Dressed in a navy blue suit with black bow tie, the wax figure of Park Hae-jin sits on a stool and holds a bouquet of roses. It looks just as fondly as Park Hae-jin himself and exudes his signature gentleness and tenderness. At the ceremony, Park Hae-jin dressed in same outfits and sit side by side with his figure, all media and fans were surprised by the resemblance. According to Park, he wishes this pose can encourage fans to get up close and creates more unforgettable memories with his figure.
The Madame Tussauds sculpting team worked with Park Hae-jin on a detailed custom sitting several months ago.  In spite of the 7-hour sitting process, Park enjoyed every moment and kept discussing with the team. Park says: "I deeply appreciated the professionalism of the team. During the sitting, the team asked me to hold the exact same pose. Although I chose a sitting pose for my figure, it is not easy at all.  Apart from measurement, a sample of my hair, eyes, teeth casts, etc. were also acquired for replication to ensure all colour matched to create an accurate semblance. However, the moment of unveiling was truly magical. When I looked at my wax figure, it's as if I was looking into a mirror! Thank you Madame Tussauds Hong Kong. I am proud and thrilled to have a wax figure of myself."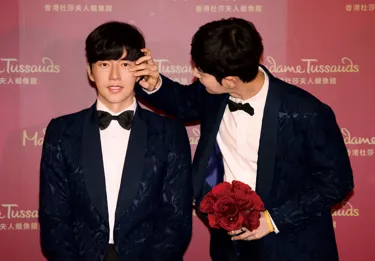 Park Hae-jin made his debut in the 2006 and participated in many famous dramas. Starring in My Love from the Star as Lee Hwi-kyung; Han Jae-joon / Lee Sung-hoon in Doctor Stranger and Yoo Jung in Cheese in the Trap gained him nationwide recognition and skyrocketed his popularity. Park is also known for his philanthropy and volunteerism. He is the first South Korean to be invited and honoured by the 'Civic Public Welfare Award' in China in 2014.
 "We are glad to have Mr. Park Hae-jin and his crew joining us today for the unveiling ceremony of his wax figure. Mr. Park devotes his efforts to his acting career as well as participates in volunteer work proactively. I am sure our guests will be excited to see Park at our attraction and it will definitely enhance interaction with visitors. It also makes our star-studded Madame Tussauds Hong Kong continues to dazzle at The Peak," commented Jenny You, General Manager of Madame Tussauds Hong Kong.
Madame Tussauds Hong Kong's K-wave Zone, the first K-pop themed zone in Madame Tussauds worldwide, is also home to other Korean celebrities including: Suzy Bae, a member in Korean girl group Miss A; Lee Jong-suk, model-turned-actor; Siwon Choi, member of popular pop group Super Junior; Kim Soo-hyun, the lead actor of the immensely popular series My Love from the Star; U-Know Yun-ho and Max Changmin from TVXQ!, often dubbed "Beast Idol"; Nichkhun Horvejkul, singer and rapper from boy band 2PM; and Bae Yong-joon, best known for his role in the drama Winter Sonata.