Wu Lei "meets" Fan Bingbing at Fashion Zone
Wednesday 9th August 2017
Madame Tussauds Hong Kong
What's New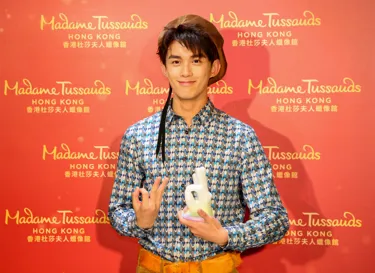 HONG KONG (August 9, 2017) Madame Tussauds Hong Kong celebrated its 17th Anniversary at Fashion Zone today. 17-year-old Wu Lei, also known as National brother, turned up the event and experienced a memorable Madame Tussauds journey at The Peak.
Fashion Zone focuses on fashion element and visual enjoyment with the introduction of interactive technology. The zone becomes the much-loved location by visitors since the opening last month. It marks an important milestone in Madame Tussauds which further strengthening visitors to not only get close to the celebrities but also enjoy an immersive scenario-based experience. Being the same age as Madame Tussauds Hong Kong, the surprise appearance of Wu Lei makes the 17th Anniversary event more meaningful.  
During the event, Wu Lei walked the runway and said Happy Birthday in Cantonese. He also used three stones (Wu Lei fans called him three stones brother) to present his fashion style. Madame Tussauds Hong Kong "prepared" a surprise to Wu Lei, gave a wax hand making experience and sent him his own wax hand as a gift. Moreover, Madame Tussauds Hong Kong presented a mini Award to Wu Lei and wished him a great success on acting career. Wu Lei also presented a panda embroidery to Madame Tussauds Hong Kong as a birthday gift.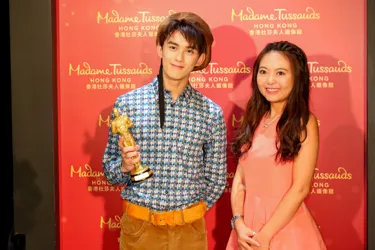 Wu Lei also took this chance to walk around the attraction and shared his experience with fans via live broadcast. This 17-year-old actor used his usual lively way to interact with the lifelike figures, includes the new Fashion Zone, Animated World and Yayoi Kusama Gallery. He also got up close with international celebrities such as Andy Lau, Bruce Lee, David Beckham, Jackie Chan, Johnny Depp and Victoria Beckham. When he met Fan Bingbing's wax figure, Wu Lei took a lot of photos with "her". Besides, Wu Lei showed his interested in the wax hands experience and expressed his love to Madame Tussauds Hong Kong. "Madame Tussauds Hong Kong provides a brand-new interactive experience to visitors and I am looking forward to visiting the attraction again", he explained.