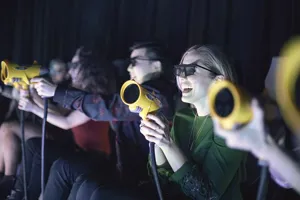 Beware of the killer clowns!
Part ride, part game, all chaos! Become fully immersed in a thrilling motion simulator carnival adventure where YOU fire lasers at enemy clowns. Play against your friends and family in this multi-sensory interactive 7D experience.
Creepy carnival barkers, giant porcelain heads, and possessed hammer minions are just a few of the odd creations our clown adversary has manifested in the decrepit Coney Island amusement park you need to escape. As you get dropped, dragged, tossed, and turned from one twisted corner of his mind to another, take fate into your own hands and fight to wake up from this nightmare!
With rich, cutting-edge technology, you will feel like you are actually a part of the game. Experience the thrill of a roller coaster, the "Wheel of Misfortune" Ferris wheel, and the excitement of a state-of-the-art laser blaster game all at once. It's an adrenaline rush like no other. Will you survive?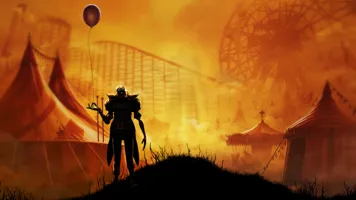 Your Worst Nightmare...
A disturbed clown out for revenge traps us in his sinister nightmare. Prepare to be dragged, dropped, and swung from one twisted corner of his mind to the other. Powerless over our fate and frightened by every move, we're forced to confront the reality of this nightmare we may never wake from.
Think fast and stay on your feet! You want to survive this eerie carnival nightmare, don't you?
Coney Island Clown Chaos 7D is an intense, thrilling experience with themes of violence that may not be suitable for young children. Guests must be at least 36" (90 cm) tall to experience.