WENDY WILLIAMS ANNOUNCES HER NEW WAX FIGURE AT MADAME TUSSAUDS NEW YORK!
Monday November 18th 2019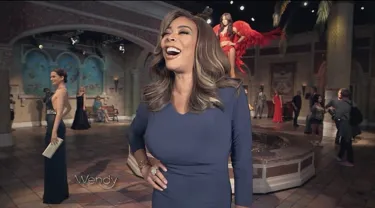 Want to have as much fun at Madame Tussauds New York as Wendy Wiliams? Online Tickets start at just $29.99!
How YOU Doin, A-Listers?!?  You've heard that right. The Daytime TV Queen herself, Wendy Williams, will be immortalized in Wax and ready for the floor at Madame Tussauds New York this upcoming Spring 2020! Click the video below to watch her announcement on The Wendy Williams Show today, November 18th 2019!
Wendy shared on her show that our Studio Artists measured everything from the size of her head, to the height of her eyeballs, number of teeth she has, and even the width of her nostrils! Although a very detailed process, our Studio Artists have proven time and time again that our collection stands out as the highest quality celebrity wax figures of ALL TIME! Take a look at our most recent additions, Kourtney Kardashian, Kris Jenner and Priyanka Chopra Jonas!
As an ICON in the entertainment industry, it's no wonder Wendy Williams would land a figure in the world famous Madame Tussauds attraction! Better yet, her figure will live right in the heart of Times Square at the New York City location, just a few blocks away from her studio! The New York superstar joins fellow veteran TV hosts Oprah Winfrey, Jimmy Fallon & Al Roker further solidifying her place as a pop culture icon. We can't share all of the details, but we promise you an interactive Wendy-approved experience that we know all of her devoted fans will absolutely be sure to love!
Back in 2016, Wendy Williams visited Madame Tussauds New York to experience one of Times Square's most unique attractions and decided to play a "Real or Wax" prank on some innocent and unsuspecting Wendy Williams Fans! We still haven't stopped LOLing at these hysterical reactions! Check out what she was up to the last time she visited us at Madame Tussauds New York!
We know Wendy will have even more fun meeting her new wax figure at Madame Tussauds New York in Times Square next spring! Let the countdown begin!
Want to have as much fun at Madame Tussauds New York as Wendy Wiliams? Online Tickets start at just $29.99!