Sydney Hotspots for comic book fans!
Friday 14th February 2020
comic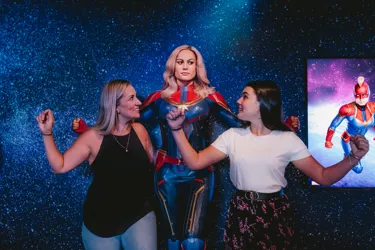 Are you a comic book fan? Here are all the cool places to go in Sydney, including book stores, community gatherings and a chance to come face-to-face with your heroes.
The Best Comic Book Stores
Start at the award-winning KINGS Comics. These guys have been around since the 80s! The comic book store is not only huge and organised, but there are friendly, chatty and informed staff to point you in the right direction. Next, try book lover's haven: Kinokuniya. Some say it's the best bookstore in Sydney, so head on over and decide for yourself. Here, you can dig into a good selection of graphic novels.
Free Comic Book Day
Visiting Sydney in early May? Look out for this special occasion across comic book stores like KINGS Comics and Kinokuniya. Free Comic Book Day is exactly what it sounds like! You can nab free previews of new comics, score show bags or receive great discounts. Stores can run exciting activities such as competitions, cosplay and meet-and-greets.
The annual event was started in 2002 by the North American comic book industry to support independent comic book stores. Now celebrated in Australia, reach out to your local store for the latest happenings.
Annual Comic-cons
If you love all things pop-culture, mark down the annual Oz Comic-Con and Supanova. Held in major cities across Australia, these multi-day events especially celebrate speculative fiction and fandom. Expect cosplay, anime screenings, guest panels, gaming, celebrity guests, awesome exhibitors, and so much more.
Both Oz Comic-Con and Supanova are fun for all ages. Go on and let out your inner geek and inner child. You'll connect with likeminded people and might even make a new friend or two. Check out their official websites for exact event dates.
Meet Your Heroes
If you're looking for cool places to get your geek fix in Sydney, don't miss Madame Tussauds Sydney. Located in the heart of the city, in Darling Harbour by the beautiful water, this pop-culture heaven is action-packed with sensational wax figures of all your favourite characters. But you aren't just rubbing shoulders with them. Madame Tussauds Sydney is experiential and interactive.
Suit up and feel the power with Captain Marvel through an epic AR experience. Hang off the ceiling with Spider-Man and have your upside-down kiss moment. Compare claws with Wolverine, then face off with Iron Man. Alongside these superheroes, you can spend hours dancing, spinning tunes, dressing up and cat-walking with local celebrities in other exciting zones.
Want to take your comic book experience to the next level? Tie in a visit to Madame Tussauds Sydney after checking out a comic-con or comic book store. Plus, here's a cool bonus: Madame Tussauds Sydney is open every day from 10am! Check the website for notices that might affect opening hours.
Book your tickets to Madame Tussauds online for massive savings of up to 20% when booked in advance. You also get to skip queues at the door. Winning