Wonder Woman's figure revealed at Supanova
Sunday 17th June 2018
wonderwoman, justice league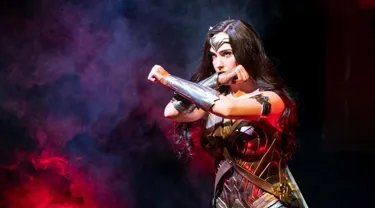 The wax figure of Gal Gadot as Wonder Woman was dramatically revealed in front of an audience of over 15,000 Super hero fans at Supanova Sydney yesterday afternoon! 
The extremely lifelike wax figure joins equally lifelike figures of Superman, Batman and The Flash in the newest attraction at Madame Tussauds Sydney, Justice League: A Call for Heroes.
Gal Gadot was blown away by her wax doppleganger, "If you look in my eyes long enough I might blink. Such an honor! Thank you so much Madame Tussauds."
Opening on Saturday 30th June, the new interactive experience allows guests to follow Justice League as they battle the evil LexCorp.
"Australians love the Justice League so we're beyond excited to launch an epic new experience that will enable our guests to be a part of the action this June," said Mark Connolly, General Manager.
"Madame Tussauds Sydney, together with Warner Bros. Consumer Products, on behalf of DC Entertainment, has created a unique and immersive Justice League experience with exciting plans to unite an all-star cast of DC Super Heroes. It's an unbeatable roster of heroes to the sensational, hi-tech experiences and we can't wait to share it with you all."
Photos credit: Bruce Moyle - Supanova Comic-Con & Gaming.
Book Now