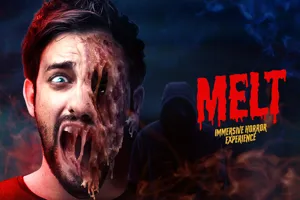 Experience true horror
Have you ever wondered about who or what lurks our halls when the lights go out at night? Have you ever heard of the myth of 'The Artist', the Madame Tussauds serial killer? Experience true horror as you walk through… your one and only goal is to avoid becoming the next victim. Get caught, and join the others as you haunt the shadows forever as the killer's half alive, half melted trophy. This Halloween, Madame Tussauds Sydney and the Hunted Experience presents MELT!
Test your fate!
The Experience
Experience Madame Tussauds Sydney AFTER DARK on a self-guided immersive horror tour. You will be given instructions and puzzles to solve along the way and experience the fright of your life with jump scares, gory figures and more! 
In your group, you must listen very carefully to the messages given and work together to make it out alive. You will have to make some sacrifices, but it's the only way you can outsmart The Artist!
Event Information
Dates: October 31, November 1 & November 2
Tours start from 6pm and run for 45 minutes. The last tour will be 10:30pm.
10 people per session
This is an 18+ only event (ID must be provided at the door)
Ticket Information
Early bird tickets: $45
Final release tickets: $50
Please arrive 20 minutes before your session time
If you make it out, keep the night going at HELM Bar & Bistro with all our guests receiving one FREE drink at the bar.
Guests are allowed one drink per person when they hand over their event wristband to the bar tender. Available drinks include; Pure Blonde, Bulmers, VB, Great Northern, House Wine and non-alcoholic beverages *
*HELM Bar & Bistro promotes the responsible service and consumption of alcohol. Conditions apply.
MELT is not currently runnnig at Madame Tussauds Sydney, see our latest tickets and events here!
Find out more