Madame Tussauds Berlin, Music Zone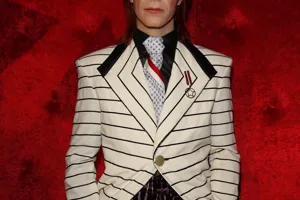 "Back then I was absolutely Ziggy Stardust. It was no longer a role. I am him". says David Bowie in spring 2008 about his probably most famous art figure.
David Robert Jones, his civil name, was born in London in 1947. Together with his parents Margaret Mary and Haywood Stenton Jones and his older brother Terry, he grew up in the London district of Brixton in simple circumstances. As early as 1962, the 15-year-old David made his first attempts in the music business. As a singer, "Dave Jay", his stage name at the time, was a member of several bands like "The Konrads", "Manish Boys" and "Lower Third". However, the hoped-for chart successes did not materialize, so from then on he aimed for a solo career with the new stage name "David Bowie". After moderate successes in the 60s, the album "The Rise and Fall of Ziggy Stardust and the Spiders from Mars" in 1972 was his big commercial breakthrough, with which he went on world tour until 1973. "Heroes" (1977), "Space Oddity" (1969), "Starman" (1972), "Under Pressure" (1981) and "Let's Dance" (1983) are just a few of his most successful hits with which David Bowie wrote music history. In addition to his career as a musician, he was also active as an actor and producer. With more than 140 million sold records from 26 studio albums, David Bowie is one of the most important musicians of our time.

His musical variety from Rock'n'Roll to Pop to electronic influences was reflected in his various outfits. During his singing career, his extravagant art figures such as the alien "Ziggy Stardust" and astronaut "Major Tom" attracted a lot of attention. With heels, dazzling make-up and ambivalent statements he left his fans guessing about his sexuality. He is considered a style icon of his time and had traditional gender roles abolished.

From 1976 Bowie lived briefly with singer Iggy Pop in the Berlin district of Schöneberg, where he fought his drug addiction in cold rehab. On January 10, 2016, the British music icon and father of two children died two days after his 69th birthday from the consequences of his liver cancer, which he did not share with the public until shortly before his death. The musician lived in Manhattan with his wife Iman Abdulmajid for the last few years before his tragic death.