Madame Tussauds Berlin, Berlin 100!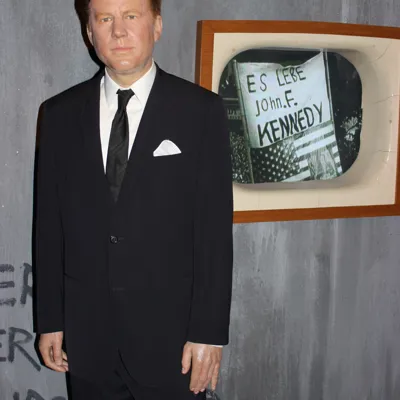 'Ich bin ein Berliner!'
John Fitzgerald "Jack" Kennedy, often referred to as his initials JFK, was born in Brookline, Massachusetts on August 25 1917. His election to the 35th President of the United States of America (1960) and his assassination three years later on September 22 in 1963 are two of the most important events of American history of the 20th century. His tenure fell into the high phase of the Cold War, which was characterized by some historical occurrences. This included, among other things, the intensification of international conflicts such as the Bay of Pigs invasion during the Communist regime under Fidel Castro in Cuba and the Cuba crisis, which almost triggered a third world war. The construction of the Berlin Wall and the growing US presence in Vietnam also belonged to them. But also the ongoing racism in the United States and the African civil rights movements were decisive for John F. Kennedy's policy. He also paved the way for the moon landing and got probably the world's most famous birthday serenade when Marilyn Monroe sang for the President's birthday at her legendary performance at Madison Square Garden.
From 1961 to 1963 Kennedy was the 35th President of the United States of America and a member of the Democratic Party. The Irish-born Pulitzer Prize-winning Kennedy was not only the youngest elected president, but also the only Catholic in the White House so far. He was regarded as a pioneer and a political innovator who was honored as a pop star by many citizens. Because of his youth and his charisma, John F. Kennedy was perceived as a glimmer of hope for a renewal of the USA. The famous sentence "I am a Berliner" said John F. Kennedy during his speech in front of the town hall Schöneberg on June 26 in 1963.
On November 22, 1963, John F. Kennedy was assassinated during a journey for his election campaign in Dallas. After the suspect Lee Harvey Oswald was arrested he was shot dead by a nightclub owner two days later. That is the reason why it is still obscure who killed JFK. According to an investigation commission Oswald was the sole perpetrator, but still today various different conspiracy theories to the assassination of the US president come to light. The mourning ceremony after John F. Kennedy's death became a major media event. Millions of people worldwide mourned the dead president. In the form of his wax figure you can still visit the former US president at Madame Tussauds Berlin. Watch a video of his famous speech at the Rathaus Schöneberg, pose next to John F. Kennedy and take great memorable photos. Secure your tickets now and meet the wax figure of John F. Kennedy at Madame Tussauds Berlin.