Madame Tussauds Berlin, Fashion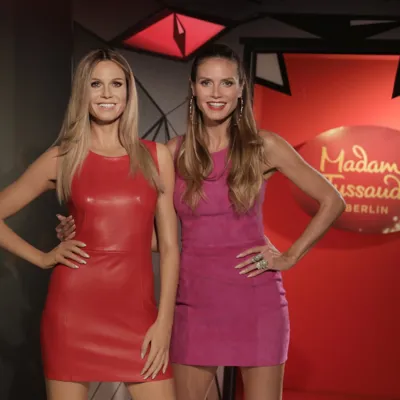 Top model, world star, Heidi Klum:
Madame Tussauds Berlin presents you the new wax figure of world star Heidi Klum inside the largest and most elaborate setting so far. Find yourself in a top model shoot together with Heidi Klum and experience your own model moment on the big Madame Tussauds Berlin catwalk. You have what it takes to be a real top model? Then Madame Tussauds Berlin is your place to be, because here you get an all over top model feeling: First you find yourself inside the fitting room and dive into the exciting mood before your big fashion show. There you can choose your favorite fashion accessories and collect your individual top model outfit. Now it's your turn: Show us your talent in modelling at the photo shooting together with Heidi Klum on the big catwalk. In the end you are able to download your own cover photo from the shooting and present it on the big Madame Tussauds Berlin fashion screen.
Heidi Klum was born on June 1, 1973 in Bergisch Gladbach. She is probably 'the' German top model. In addition to her model activities, she is active as a juror, presenter and producer. Her career began in 1992, when she won the casting show called 'Model '92' moderated by the famous German TV host Thomas Gottschalk. At the age of only 19 years she prevailed over 25.000 competitors and won a model contract for the duration of three years. In order to pursue her model career, Heidi Klum renounced her apprenticeship as a fashion designer after graduating from high school and moved to the United States in 1993. Five years later, Heidi Klum achieved her international breakthrough when she was featured on the cover of the well-known US magazine 'Sports Illustrated'. After appearing on other covers of famous magazines, such as the 'Vogue' or the 'Elle', Heidi Klum established herself as an international model and advertising face. At this time she also became one of the popular 'Victoria's Secret Angels'. Overall, Heidi Klum has been one of the 'angels' of this word famous underwear brand for 14 years.
In addition to her career as a top model, the German beauty also got many guest appearances in movies and series such as 'Zoolander', 'Sex and the City', 'James Bond 007', 'How I Met Your Mother' and 'Desperate Housewives'. Since 2004, Heidi Klum has been working as a juror and presenter of the successful casting show 'Project Runway' in the United States. She has been honored with five nominations and one win for an Emmy in the category 'Outstanding Host for a Reality or Reality –Competition Program' for her work in this critically acclaimed format. Heidi Klum has also been an integral part of the jury of the American casting show 'America's Got Talent' since 2013. At Madame Tussauds Berlin you have the opportunity to immerse yourself in the world of top models. On our own catwalk you take part in an exclusive top model shoot together with Heidi Klum and develop your individual cover of the Madame Tussauds Berlin magazine. Get your tickets now and become a top model by yourself at Madame Tussauds Berlin.