Angela Bassett Unveils Her Remarkable Wax Figure at Madame Tussauds Hollywood
Friday September 17th 2021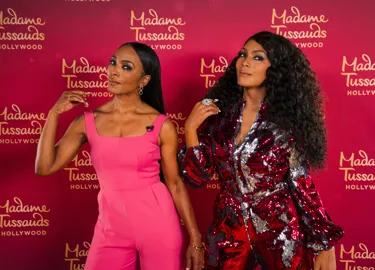 Angela Bassett, the iconic Hollywood actress known for her powerful portrayals of Black female leads, including Tina Turner and Queen Ramonda in Black Panther, has unveiled her stunning wax figure at Madame Tussauds Hollywood!
Angela Bassett's Debut at Madame Tussauds Hollywood:
Angela Bassett, a renowned actress celebrated for her exceptional talent, expressed her joy and gratitude for being featured at the world-renowned Madame Tussauds Hollywood. This momentous occasion marks the unveiling of her very first wax figure to the public, making her a part of the wax museum's prestigious collection.
Bassett worked closely with Madame Tussauds' skilled artists and designers to ensure the utmost accuracy and authenticity of her wax figure. The meticulous attention to detail is evident in every aspect of her figure, from her stunning sequin jumpsuit by Greta Constantine to her Casadei shoes, all meticulously styled by Jennifer Austin. Notably, this entire outfit was generously donated and styled by Kat Tunwell, capturing Bassett's admirable persona that has left an indelible mark on Hollywood.
The Artistry Behind Angela Bassett's Wax Statue:
The creation of Angela Bassett's wax figure was a labor of love and craftsmanship. Madame Tussauds' creative team began by modeling her face and hands in clay, ensuring precision and lifelike representation. The iconic aspect of Bassett's look, her fabulously famous hair, was individually inserted strand by strand by skilled artisans, a process that took approximately five weeks to complete. Additionally, colorists applied multiple layers of oil paint to achieve her lifelike skin tone, ensuring that every detail was accurate to the actress's real appearance.
Angela Bassett's Reaction:
Upon seeing her wax figure for the first time, Angela Bassett was overwhelmed with astonishment and delight. She remarked, "It's like looking in a mirror! Dreams really do come true, and I am blown away by the detail and execution by the Madame Tussauds artists. My figure is truly remarkable, and I am extremely honored to be perfectly featured at Madame Tussauds Los Angeles."
Madame Tussauds' Legacy:
Madame Tussauds has a legacy of over 200 years, consistently bringing to life thousands of celebrities, stars, and heroes with mind-blowing accuracy. Visitors have the unique opportunity to get up close and personal with their favorite figures, each representing an iconic footprint in history.
Angela Bassett's Accomplishments:
In addition to her contribution to the world of cinema, Angela Bassett has received numerous accolades, including a SAG Award, a Golden Globe Award, three Black Reel Awards, several NAACP Image Awards, and the Black Girls Rock! Icon Award. She has also been nominated for an Academy Award and seven Primetime Emmy Awards.
In conclusion, Angela Bassett's wax figure unveiling at Madame Tussauds Hollywood is a momentous occasion that celebrates her remarkable career and iconic status in the entertainment industry. Visitors to Madame Tussauds now have the opportunity to get up close and personal with this lifelike representation of a Hollywood legend. Angela Bassett's presence at Madame Tussauds pays tribute to her outstanding contributions to the world of cinema and her enduring legacy as an actress.
Get ready to celebrate the incredible Angela Evelyn Bassett, the powerhouse American actress we all adore! With a career spanning over three decades, this Hollywood legend has notched up some seriously impressive achievements. From her stunning performances to her numerous accolades, Angela Bassett is an unstoppable force in the entertainment world.
Did you know that Angela Bassett has clinched two Golden Globe Awards and a whopping sixteen NAACP Image Awards? And that's not all! She's also been nominated for not one, but two Academy Awards and seven Primetime Emmy Awards. Now that's what we call a stellar career! Time magazine even recognized her as one of the 100 most influential people in the world in 2023. And guess what? She's set to receive the Academy Honorary Award later this year. The excitement is off the charts!
Angela's acting prowess knows no bounds. Who can forget her iconic portrayal of Tina Turner in "What's Love Got to Do with It," which earned her a Golden Globe and an Academy Award nomination? She's graced our screens in unforgettable roles in Boyz 'n the Hood, Malcolm X, Waiting to Exhale, How Stella Got Her Groove Back, and Music of the Heart. And let's not forget her unforgettable stint in the Marvel Cinematic Universe as Queen Ramonda! Golden Globe-winning and Academy Award-nominated – Angela Bassett is truly a force to be reckoned with.
But that's not all! Angela's TV career is just as dazzling as her filmography. From her role as Katherine Jackson in The Jacksons: An American Dream to her powerful portrayal of Rosa Parks in The Rosa Parks Story, she's left an indelible mark. And her appearances in "American Horror Story" and her current role as an LAPD patrol sergeant in 9-1-1 prove that she's a versatile talent, commanding both the big and small screens.
So, there you have it – the incredible Angela Bassett, a living legend in the world of entertainment. Stay tuned for more updates on this remarkable actress and her ever-evolving career! 🌟 #AngelaBassett #HollywoodLegend #EntertainmentIcon #AngelaBassettFans