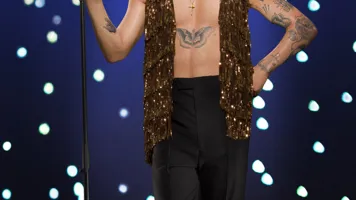 Seven New Harry Styles Wax Figures to Keep You Late Night Talkin'
After years and thousands of fan requests, Madame Tussauds revealed Harry Styles will take to the stage a second time with seven new figures of the trendsetting solo artist unveiled across the world a whole decade after Harry first graced the stage with his former One Direction bandmates.
Visitors to Madame Tussauds in London, New York, Hollywood, Amsterdam, Berlin, Singapore and Sydney will be able to get up close and personal with the multi-award-winning singer-songwriter as he triumphantly returns to Madame Tussauds on July 17. With the figures striking seven different poses inspired by some of Harry's show stopping appearances from around the globe, "Harries" everywhere will gather round to "walk in his rainbow paradise.
Here at Madame Tussauds Hollywood, guests will be transported to a legendary performance of Harry Styles in New York City when they see his sequined gold vest adorned over his lifelike tattoos.
In 2010, Harry Styles became one of the original members of the boy band, One Direction, which was formed on the British reality competition show, The X Factor. The group placed third and went on to sell over 70 million records worldwide.
He has forged a highly successful solo career, with songs like "Sign of the Times", "Watermelon Sugar", and "As It Was" topping international charts. In 2023, Styles won multiple Grammys, including the Grammy for "Album of the Year."
Styles has also made a name for himself in the film world. He's starred in critically-acclaimed films including Dunkirk, Don't Worry Darling, and My Policeman.
Along with music and film, he's known for his dazzling and flashy fashion. In 2020, he was the first man to be featured solo on the cover of Vogue.
Gather 'round Little Monsters, Lady Gaga is now at Madame Tussauds Hollywood!
Inspired by her 2019 Oscar ensemble, Lady Gaga's new wax figure is featured in an elegant, black gown with a sweetheart neckline and long, black gloves inched up to her bicep. Matching her famous red carpet look to a T, the figure is also captured accessorizing with a white and yellow diamond necklace and earrings to match, black pointed-toe pumps and the honeycomb hairstyle the actress rocked that night. All of Lady Gaga's tattoos on her upper back and arms have also been recreated for a detailed finish.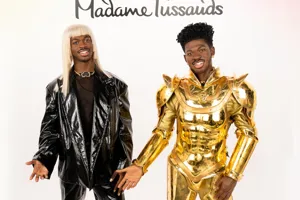 Call him when you want, call him when you need... Lil Nas X's wax figure just dropped!
In just a few short years, Lil Nas X has reached undeniable global fame through his internet mastery, iconic fashion sense and his steady stream of #1 hits including "Old Town Road" feat. Billy Ray Cyrus, "MONTERO (Call Me By Your Name)," "INDUSTRY BABY" feat. Jack Harlow and "THAT'S WHAT I WANT." He revealed his wax figure in an unforgettable side-by-side moment. The striking figure is wearing a replication of his iconic gold Versace suit armor worn at the 2021 Met Gala. Intricately detailed, Madame Tussauds artists also replicated the Versace earring, choker and nail art from the custom look. Not to mention Lil Nas X is the first wax figure to have a grill!