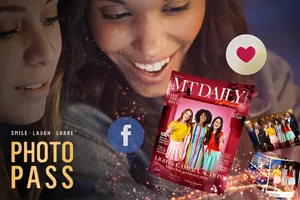 Our latest celeb experience
YOU are the the hottest VIP in Town, The Glitz, The Glamour, The Magazine Covers, the "In-Crowd."
To become a VIP and get your VIP Photo Pass content direct to your phone is as easy as following the three steps below. Included with select admission tickets you will be able to take paparazzi photos as you mix and mingle with the hottest celebs during your visit to Madame Tussauds. It's as easy as scanning your VIP Photo Pass and striking the perfect pose before the camera flashes. Then scan your VIP Photo Pass to view more then 7 digital products sent directly to your phone. Purchase your admission ticket now that includes this new digital memory experience.
Buy Now
Three easy steps to getting your Paparazzi Digital Content Pre-Purchase Online and Save
Look for Photo Kiosks in Madame Tussauds View, Share, and Save On Your Phone