L.A. Icon Danny Trejo Reveals His Madame Tussauds Hollywood Wax Figure!
Thursday October 28th 2021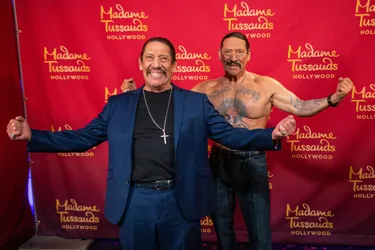 Renowned actor, entrepreneur, and author Danny Trejo recently unveiled his remarkable wax figure at Madame Tussauds Hollywood. This extraordinary event celebrated Trejo's incredible journey from a previously convicted felon to becoming Hollywood's beloved on-screen bad guy. The private rooftop event witnessed the grand reveal of Trejo's lifelike wax statue, attended by his family, friends, and a handful of fortunate fans.
Danny Trejo: A Hollywood Icon
Danny Trejo, the multi-talented actor, entrepreneur, and author, made a stunning entrance into the world of wax figures with the introduction of his new wax statue at the renowned Madame Tussauds Hollywood.
Wax Figure's Debut at Madame Tussauds Hollywood
Trejo's wax figure, a striking representation of the Hollywood legend, was unveiled at an exclusive private event hosted on the rooftop of the world-famous Madame Tussauds museum. This much-anticipated debut had Trejo enthusiasts and fans buzzing with excitement.
A Collaborative Masterpiece
Creating Trejo's wax figure was a meticulous process that involved a team of skilled artists, sculptors, colorists, hairdressers, and stylists. These experts meticulously took approximately 150 measurements to ensure the figure's accuracy. Danny Trejo himself actively collaborated with the artists at Madame Tussauds to capture every detail, including his signature tattoos, silver cross necklace, jeans, belt, and shoes. The figure is proudly displayed in his iconic power stance.
Trejo's Excitement and Gratitude
In Danny Trejo's own words, "It's truly an honor to receive my very first wax figure at Madame Tussauds Hollywood, in my favorite city and hometown. The artists and creative team were amazing to work with, and it was a great experience overall. Watch out Hollywood, I'm immortal now!"
Fan Engagement and Contest
Madame Tussauds Hollywood, leading up to the private rooftop reveal event, organized a captivating city-wide social contest for fans. A cleverly crafted clue on their social media platforms led fans on a treasure hunt for a golden machete, with VIP tickets to the event and an opportunity to meet Trejo himself as the coveted prize.
Madame Tussauds Continues to Honor Icons
Madame Tussauds, the world's premier wax museum, consistently pays tribute to the heroes and icons of various cities with incredible attention to detail, creating lifelike personas of their subjects. Danny Trejo's wax figure is now available for the public to admire exclusively at Madame Tussauds Hollywood.
Plan Your Visit
Guests eager to witness Danny Trejo's wax figure and explore the world of Madame Tussauds Hollywood are encouraged to visit Madame Tussauds Hollywood's official website to plan their A-list experience.
Danny Trejo's wax figure unveiling at Madame Tussauds Hollywood marks a significant milestone in the actor's illustrious career. This remarkable wax statue captures the essence of Trejo's iconic presence in Hollywood, offering fans and visitors an opportunity to get up close and personal with one of the industry's most beloved figures. Don't miss the chance to experience this incredible piece of artistry in the heart of Hollywood.
Get ready for a dose of Hollywood magic, Trejo enthusiasts! We all know and adore the iconic American actor, Danny Trejo, famous for his unforgettable roles in hit films like Desperado, Heat, and the epic From Dusk Till Dawn series. But here's the news that's got us jumping for joy: a magnificent wax figure in his likeness is about to grace Madame Tussauds Hollywood!
Danny Trejo's journey from a humble start in 1985 with the indie film Runaway Train, where he portrayed a fearless boxer for a modest daily fee of $320, has led to a spectacular film career that's left an indelible mark on cinema. His partnership with the brilliant Robert Rodriguez resulted in the legendary character, Isador "Machete" Cortez, initially conceived for the Spy Kids series and later evolving into a blockbuster franchise of its own. Trejo's filmography reads like a Hollywood treasure trove, with appearances in gems like Madness in the Method, Con Air, Anchorman: The Legend of Ron Burgundy, and many more.
But the thrill doesn't end there! Soon, you'll have the chance to witness the magic up close as Trejo's wax figure, capturing every intricate detail, makes its debut at Madame Tussauds Hollywood. This lifelike tribute to a true Hollywood hero is set to dazzle fans, and it's an experience you won't want to miss. Keep an eye out and get ready to stand face to face with a cinematic legend!
#DannyTrejo #Machete #HollywoodIcon #MadameTussaudsHollywood #FilmLegend