Gather 'round Little Monsters, Lady Gaga is now at Madame Tussauds Hollywood!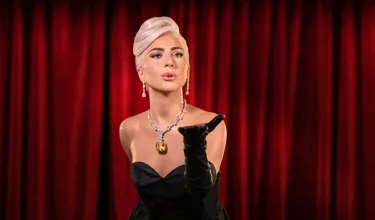 Don't be a Drag, Just be a Queen and celebrate Lady Gaga's new wax figure in honor of Hollywood's biggest night in film!
Inspired by her 2019 Oscar ensemble, Lady Gaga's new wax figure is featured in an elegant, black gown with a sweetheart neckline and long, black gloves inched up to her bicep. Matching her famous red carpet look to a T, the figure is also captured accessorizing with a white and yellow diamond necklace and earrings to match, black pointed-toe pumps and the honeycomb hairstyle the actress rocked that night. All of Lady Gaga's tattoos on her upper back and arms have also been recreated for a detailed finish.
"Lady Gaga represents so many positive attributes in this world, and to have another wax figure added to Madame Tussauds is incredible," saidTom Middleton, General Manager at Madame Tussauds Hollywood. "It made the most sense to have her Hollywood figure be inspired by the night she was nominated for Best Actress and took home the award for Best Original Song for "Shallow." To top it all off, her figure will be photographed at the famed Roosevelt Hotel, home to the first ever Academy Awards."
Lady Gaga is a household name for music lovers across the globe and has received three Oscar nominations in the best original song category - including this year's honor for co-writing "Hold My Hand" from Top Gun: Maverick. Over the years, the ever-so-talented powerhouse has built careers in a plethora of industries. Fans can see her acting in shows such as American Horror Story and starring in the award-winning films A Star is Born and House of Gucci, glamorously creating new makeup for her Haus Labs collection sold in Sephora, and fighting for the rights of the LGBTQIA+ community.