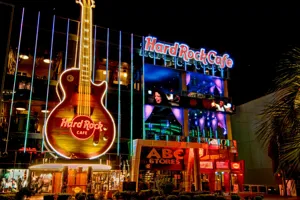 Hard Rock Café Reservations
You do not need to visit Madame Tussauds Las Vegas and Hard Rock Café on the same day. Reservations are recommended by visiting the Hard Rock Café website.
Make A Reservation
Prix Fixe "Acoustic Meal" Options
MAIN ENTREE
Choice of 
ORIGINAL LEGENDARY BURGER - fresh steak burger grilled, with Applewood bacon, cheddar cheese, crispy onion ring, leaf lettuce & vine-ripened tomato, served with seasoned French fries.
IMPOSSIBLE BURGER - 100% plant based vegan patty, topped with cheddar cheese and a crispy onion ring, served with leaf lettuce and vine-ripened tomato.
THE BIG CHEESEBURGER - three slices of cheddar cheese melted on our steak burger, served with leaf lettuce, vine-ripened tomato and red onion.
BBQ BACON CHEESEBURGER - steak burger, seasoned and seared with a signature spice blend, topped with house-made barbecue sauce, crispy shoestring onions, cheddar cheese, Applewood bacon, leaf lettuce and vine-ripened tomato.
GRILLED CHICKEN SANDWICH - 8oz grilled chicken with melted Monterey jack cheese, Applewood bacon, leaf lettuce and vine-ripened tomato served with seasoned fries.
BBQ PULLED PORK SANDWICH - tender pulled pork with our house-made honey BBQ sauce, pickles and coleslaw, served with seasoned fries. 
GRILLED CHICKEN CAESAR SALAD - 8oz chicken breast, grilled and sliced with fresh romaine tossed in a classic Caesar dressing, topped with parmesan crisps, croutons, and shaved parmesan cheese.
STEAK SALAD - 8oz grilled steak on a bed of fresh mixed greens tossed in a blue cheese vinaigrette, with pickled onions, red peppers and Roma tomatoes, finished with crispy shoestring onions and blue cheese crumbles. 
DESSERT
Chef's Choice
BEVERAGE
Unlimited coffee, tea, or soft drinks.