9/11 MEMORIAL FLAG AT GROUND ZERO
Wednesday September 11th 2019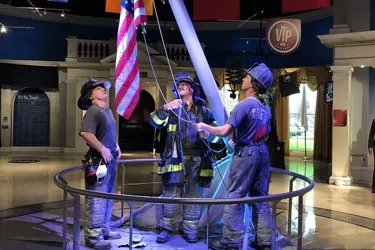 Meet the 9/11 Memorial Flag Wax Figures only at Madame Tussauds New York!
On September 11th 2019 , Madame Tussauds New York unveiled the Flag at Ground Zero figures in honor of 9/11. The figures are based on the iconic photograph of the three firefighters raising the American flag out of the rubble of the World Trade Center on September 11th 2001, exactly 18 years ago.
This special exhibit features the three firefighters, George Johnson, Dan McWilliams and Billy Eisengrein and serve as tribute to not only the courage and bravery of the first responders depicted but also the strength and courage of New Yorkers and Americans nationwide.
You can see these heroes up close all year long in the center of our World Leaders Gallery.