GIVE MELANIA A VOICE WITH SEAN SPICER!
Wednesday April 25th 2018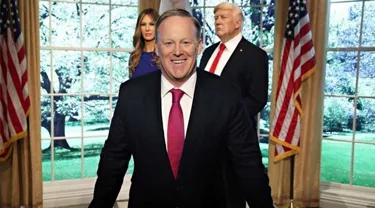 Special delivery! On the eve of the First Lady's birthday Madame Tussauds® New York debuted its new, limited-time only "Give Melania a Voice" Experience at its Times Square location!
Former White House Press Secretary Sean Spicer launched the experience featuring Madame Tussauds' first figure of First Lady, Melania Trump, and participated in a special Q&A about his time in the White House and experience with the FLOTUS!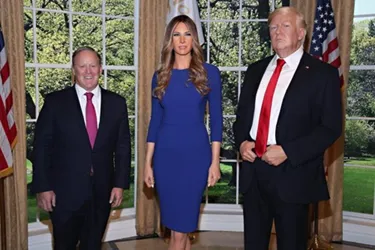 Of the first figure of First Lady, Melania Trump, Mr. Spicer said "If you get a chance to get up close, I'm not kidding, I looked at a photo I had with the First Lady before I left and it's remarkable how lifelike it is," Spicer said. "And the same thing with the President. It's impressive."
Regional Head of Marketing of Merlin Entertainments Christine Haughney said on behalf of Madame Tussauds New York "We are so excited to launch Melania Trump's first Madame Tussauds figure on the eve of her 48th birthday. We're also honored Sean Spicer accepted our invitation to attend and gave his seal of approval on the figure's incredible likeness."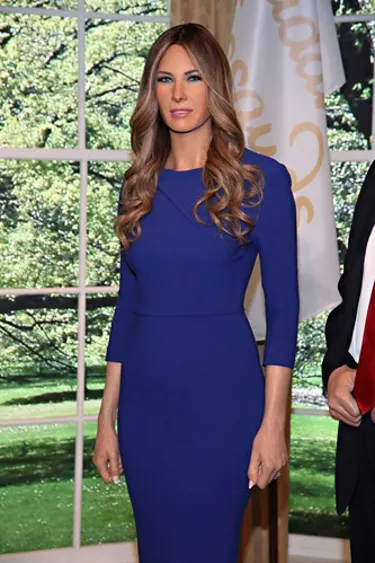 Emerging from a Tiffany's-colored box, the figure is portrayed in the cobalt blue dress she wore to the Republican Debate in March 2016, designed by Roland Mouret. Melania will join her husband's figure, launched for his Inauguration last year, in the Oval Office set of the World Leaders Gallery until June 11th before visiting Madame Tussauds Washington D.C.
Visitors are encouraged to tweet on behalf of the FLOTUS at a social media station inside the attraction's Oval Office set with the best tweets shared publicly on a Twitter account @MTMelaniaMoments.
Check us out on The New York Times, USA Today, NBC New York, The New York Post, CNBC, Bustle & Cosmopolitan!