THE ART OF BEING PRESIDENT!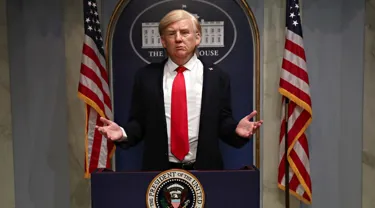 REAL or WAX? You decided!
Did you get the chance to Meet Trump Live? 
Madame Tussauds New York brought live entertainment to a new level with the debut of the iconic brand's first-ever silicon mask as part of a live activation on Saturday, June 9th and Sunday, June 10th! And to which famous face was this prestigious honor granted? None other than POTUS, Donald J. Trump, of course!
This mask was previewed in a CCTV-style skit released showing the "Imitator-in-the-Chief" inside the Oval Office attempting to cozy up to the recently-revealed figures of the First Lady, Melania Trump.
Check out our "Imitator-in-the-Chief" live in action!