Father's Day: 6 Reasons Dads Love Madame Tussauds Sydney
Tuesday 27th August 2019
fathers day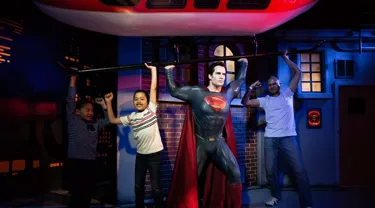 Dad just wants to have fun on his big day, and so does the rest of the family. Read on for 6 reasons Dad will love a Father's Day visit to Madame Tussauds Sydney.
GOAL!! Dad's off, running around with his shirt pulled up over his head like Australia just won the World Cup. The extreme realism of the wax figures at Madame Tussauds Sydney means it's easy to get lost in the moment! In the Sport Zone, meet Tim Cahill, Ian Thorpe, Sally Pearson and Cathy Freeman. Hang out with Aussie cricketing legends, Sir Donald Bradman and Warney. Howzat for awesome?
A Call for Heroes
What's that? Dad's joined the Justice League? Well, you always suspected he was a superhero, right? Answer the call in the Justice League Zone, where Dad can rub caped shoulders with Batman, Superman and The Flash. You won't have to twist his arm to get up close for a selfie with Wonder Woman. And, check out the muscles on Aquaman – they're huge! No point comparing biceps, but let Dad think he won anyway!
Meet Dad's favourite superheroes in the Marvel Zone. Hang out with Spiderman – literally – using special effects to cling to the ceiling. Try on Iron Man's suit, and get close, but not TOO close, to Wolverine's impressive claws. With fun photo opportunities and a chance to get silly with superheroes, it's a MARVEL-ous time for everyone.
Does Dad have political ambitions? Find inspirational figures from history, such as Gandhi, Nelson Mandela and the Dalai Lama. Discover the true story of the real Madame Tussaud! We only know many of these inspirational people from the pages of history, so it's fascinating to see how they looked. Wax artists painstakingly render every hair, wrinkle and facial expression over many months. Dad won't believe the level of detail!
Dad's living the dream! All his favourite film and TV stars surround him in this zone. Crikey, it's Steve Irwin! And there are the action heroes: Bruce Willis, Jackie Chan and Mel Gibson. Stone the flamin' crows, even Alf Stewart is here! Dad will have a great time comparing features. Is he taller than Jackie Chan? Better looking than Bruce Willis? Help him reenact his favourite movie scenes, and remember: Photos or it didn't happen!
If Dad's the type who sings in the shower, here's his big chance to be heard! Hit the MTV Studio to record a hit single and then receive an MTV Award from Adele. Hang out with Lady GaGa and Katy Perry, and sing along with John Farnham, Jimmy Barnes, Michael Hutchence and Keith Urban. Tell Dad to polish his daggiest dance moves, because he's off to a virtual music festival, where he truly can dance like no-one's watching!
History comes alive with legendary bush poets Henry Lawson and Banjo Patterson. Discover Eddie Mabo's important story. Mary MacKillop is represented in wax, every detail true to life; it's the closest Dad will get to meeting a saint! And what did Ned Kelly really look like under his famous helmet?
There's so much to interest Dad at Madame Tussauds Sydney. Bring the whole family for a fantastic Father's Day!