Narendra Modi
"Democracy is such a framework that everyone has the right to live their lives, fix their goals, their aims, their dreams and the ways to achieve them according to their own choice"
Queen Elizabeth II
"I declare before you all that my whole life, whether it be long or short, shall be devoted to your service and the service of our great imperial family to which we all belong"
Barack Obama
"Today we begin in earnest the work of making sure that the world we leave our children is just a little bit better than the one we inhabit today"
Michelle Obama
"We have this window of opportunity; we have a chance to make something real happen"
Aung San Suu Kyi
"It is not power that corrupts but fear. Fear of losing power corrupts those who wield it and fear of the scourge of power corrupts those who are subject to it" • As a pro-democracy campaigner and leader of the National League for Democracy in Burma, Aung San Suu Kyi has been in detention since 1989, most of it under house arrest in Rangoon
Mahathir bin Mohamad
"I don't accept things at face value, you cannot trust what you hear or see. Don't jump to conclusions without thinking"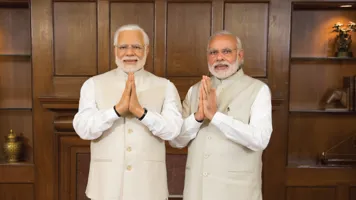 Narendra Modi
Narendra Modi is the fifteenth Prime Minister of India and is the first Prime Minister to have been born in independent India.
He is the second most followed politician on social media after US President Barack Obama.
In his congratulatory phone call to Modi, PM Cameron remarked that it was "great talking to someone who just got more votes than any other politician anywhere in the universe."