One Direction
Introduce yourself to pop sensations and worldwide superstars, One Direction!
Ariana Grande
'I believe happiness is the best suceess'
Justin Bieber
'It's been pretty crazy coming from a little town in Canada and now being able to travel the world and do what I love'
Beyoncé Knowles
"One of the things that kept me out of trouble was doing something creative - creativity can't be judged"
Madonna
"It's better to live one year as a tiger, than one hundred as a sheep"
Katy Perry
'I have multipersonality disorder - in a very good way, of course - when it comes to my fashion choices'
Jay Chou
"I'll still focus on music. This is what I'm best at"
Nichkun Horvejkul
"Nothing is for sure in life. Let's not be too flattered about ourselves because there is no going back to change things. And when a mistake is made, you can allow yourself a moment of regret and then you will have to turn that crisis into an opportunity of sort."
Michael Jackson
"Music has been my outlet, my gift to all of the lovers in this world. Through it, my music, I know I will live forever"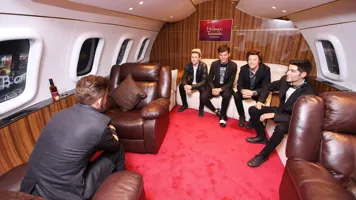 One Direction
The figures wear outfits donated by the boys themselves and sit casually together on a school-style double bench where fans can also sit right beside them.