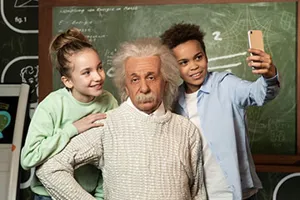 School trip to Madame Tussauds Vienna - where past and present come together!
Looking for inspiration to give your students a day out they'll never forget? Madame Tussauds - an exciting destination for a school trip to Vienna. In our wax museum, students experience history first hand!
School trips, excursions, project days – it all sounds like a lot of homework...how about a school trip to the most famous wax museum in the world? It has never been easier to combine history and culture, and organize a school trip without lifting your finger!
School Ticket
Online from
8.55€
per pupil
Discounted ticket for pupils
Reschedule for free if your plans change
What's inside Madame Tussauds Vienna
The school visit at Madame Tussauds Vienna begins with a special encounter: Marie Tussaud (lived from 1761-1850) learns how to make wax figures from her step father Dr. Curtius. As a young woman she is forced to mold the death masks of the victims of the French Revolution in Paris into wax. When she inherits her mentor's wax collection, she goes on a travelling exhibition through Britain and Ireland. As an independent entrepreneur, she sets the foundation for the Madame Tussaud's world famous waxwork museum in London.
Napoleon is bigger than expected, Anne Frank is sitting at her desk. On wax figures like these we at Madame Tussauds Vienna, tell stories that will be remembered by all your students. Habsburg Empress Maria Theresia, Karl Marx and many others can tell almost 200 years of Austrian and international history in the middle the Viennese Prater.
After seeing world famous royals such as Queen Elizabeth II, ex state presidents like Heinz Fischer and Barack Obama, the class gets to meet Mahatma Gandhi on his pacifist journey towards India's independence and the Dalai Lama in front of Tibetan prayer wheels.
The school trip continues: Wolfgang Amadeus Mozart as a sensitive musician and Johann Strauss as a glorious conductor, Franz Schubert sitting by the piano and Gustav Klimt standing in front of one of his most famous paintings. Meet Albert Einstein, the greatest Physician of all times, Friedensreich Hundertwasser makes up new words and you can lie down  next to Sigmund Freud on the sofa. An unforgettable school trip for the whole class.
Elvis Presley, Freddie Mercury and Madonna are the classics of the 20th century and the Austrian legend Falco and Udo Jürgens keep them company.
Meet Johnny Depp, Daniel Craig or George Clooney as famous movie stars. Robert Pattinson likes to look deeply into your eyes. A selfie with Beyoncé, Justin Bieber or Lady Gaga makes every school trip a unique experience.
More than wax: Sisi Uncovered Experience
Sight, sound, smell, taste and touch: your 5 senses become part of this experience! You follow golden footsteps and dance the waltz, you smells the Viennese streets from empress Elisabeth "Sisi"'s times. In 2017 Madame Tussauds Vienna has dedicated an own exhibition area full of 5D animations and special effects to Empress "Sisi".
Madame Tussauds Vienna: an enriching school trip with tons of exciting new facts to take home!
Find more information about guided tours for schools here.
Time for a pop quiz!
Do you want to challenge your students during the excursion? Download our informative Madame Tussauds Vienna school quiz including solutions here!
Booking and Enquiries
If you have any urgent questions about your school visit, please contact us at +43 699 132 69997.