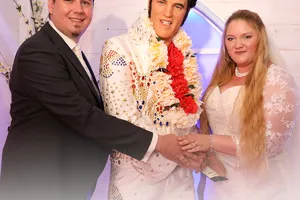 LET'S GET MARRIED!
Get married by Elvis Presley & Marilyn Monroe in Las Vegas style! Madame Tussauds Vienna is waiting with a special surprise for newly in love and those who want to revive their love: A wedding chapel with a wedding altar and wedding dress!
IT´S VEGAS, BABY!
For the opening of the new Wedding Chapel area at Madame Tussauds Vienna, we invited five couples to renew their marriage vows or to give them the first time - not legally binding of course.
Marilyn Monroe and Elvis Presley were awaiting the chosen ones along with a show priest and four drag showgirls. In addition to the exciting step in front of the altar, there was some gambling, prosecco and an extravagant show - true to a real Vegas wedding.
The Wedding Chapel in Vegas style has its doors now permanently open for everyone - wedding dress, bridal bouquet and jacket are provided for spontaneous guests. Marilyn and Elvis are looking forward to seeing you! ❤
Elvis Presley
Shake your hips with Elvis!
Marilyn Monroe
Pose with film icon Marilyn Monroe!