Impossible line-ups of our music stars at iconic London venues
Thursday 7th April 2022
Music Festival Experience, Music Zone, David Bowie, Figure Launch, Impossible Festival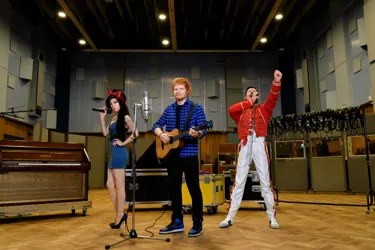 Ahead of the launch of our Impossible Festival, you may have spotted some famous faces visiting a few of London's most iconic music venues. The Impossible Festival gives you an opportunity like no other: to see all of your favourite music stars in one place on the same epic line-up. Where else could you see the likes of Ed Sheeran and Stormzy alongside Freddie Mercury and David Bowie? Nowhere… until now! Take a peak behind the scenes of when we took our figures to re-visit amazing locations and find out why we chose the places we took them to.
David Bowie and Stormzy at Hammersmith Apollo
On 3rd July 1973 at Hammersmith Apollo, a clamour of noise followed an announcement from the stage that this was 'the last show that we'll ever do'. Luckily for David Bowie fans, and music history as we know it, Bowie was merely announcing the retirement of his alter-ego; Ziggy Stardust.
Nearly 50 years on, we took our brand new figure of David Bowie back to the Hammersmith Apollo, this time accompanied by fellow South London boy, Stormzy. A striking pair in the cavernous venue, we can only wonder what extraordinary collaboration the two would have created if Bowie was still alive today.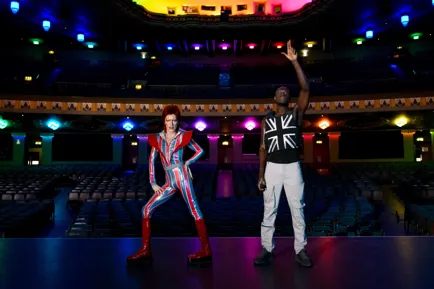 Ed Sheeran, Amy Winehouse and Freddie Mercury in Studio One at Abbey Road Studios
Although most commonly associated with The Beatles, Abbey Road Studios has played host to scores of bands, musicians and even orchestras during its almost 100-year history as a recording studio. We took the figures of three musicians to visit Studio One, all of whom have recorded in the iconic location during their careers.
Freddie Mercury visited Abbey Road Studios in 1985 to record two tracks with musician, producer and songwriter Dave Clark. This was during a hiatus period for the band Queen at which time Freddie Mercury experimented with solo material and other collaborations. The song 'Time' which was recorded in 1985 was rereleased as 'Time Waits For No One' posthumously in 2019.
The late Amy Winehouse made the final recording of her career at Abbey Road Studios in 2011 alongside her hero Tony Bennett. The track 'Body and Soul' was released later that year, following her death, on what would have been her 28th birthday.
Most recently, Ed Sheeran has recorded at Abbey Road Studios on numerous occasions and often with large orchestras, for example during the recording of 'Perfect' in 2017. No stranger to more stripped-down performances, Ed has also recorded acoustic renditions of some of his most popular tracks at Abbey Road including 'Beautiful People' in 2019 which, notably, he completed in just one take.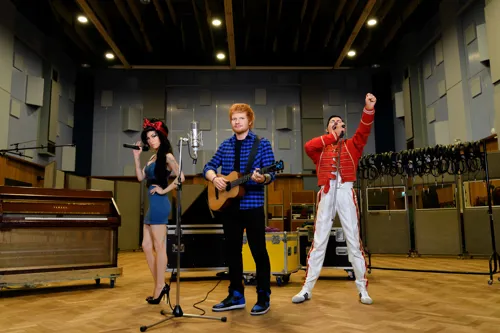 Jimi Hendrix and Dua Lipa at Ronnie Scott's 
Our figure of Jimi Hendrix took to the stage at iconic jazz club, Ronnie Scott's, where his real-life counterpart held his last ever performance in 1970. The world-famous Soho location has played host to countless historic performances and the walls of the venue are lined with pictures of some of the most memorable moments.
We paired Jimi with Londoner Dua Lipa, whose dulcet tones would no doubt have made a striking accompaniment to Hendrix's renowned guitar-playing skills.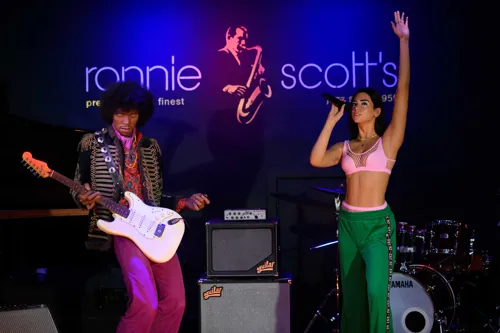 Beyoncé and Bob Marley at Honest Jon's
Portobello Road's Honest Jon's record shop had two special customers as figures of reggae legend Bob Marley and music icon Beyoncé stood amongst the music mecca's revered vinyls.
Bob Marley is perhaps one of the world's most famous Jamaicans, having become a pioneer of reggae music. While his life was short, his career took him across numerous continents and saw him gain international success as his sales broke numerous records. His albums can still be found today amongst the racks and boxes of Honest Jon's record shop alongside artists from around the world and spanning multiple decades.
Bob Marley's figure was joined by that of another record-smashing musician, Beyoncé. Chart-topping Beyoncé Knowles was born in September 1981, four months after Bob Marley's tragic death from cancer. We can only imagine the incredible combination of Marley's reggae beats with Beyoncé's powerful vocals.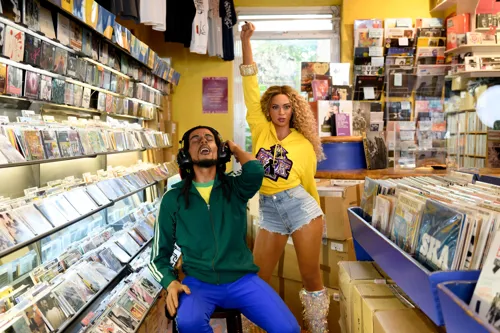 The Impossible Festival
Our brand new music zone, The Impossible Festival, puts you in the heart of the action at a festival like no other. See all your favourite musicians both past and present all on the same epic line-up. Imagine a festival where there are no set-clashes, no mud and no need to worry about camping! A festival where you can not only see your favourite performers, but join them on the stage! Only at the Impossible Festival. Only at Madame Tussauds London. Find out more here
Scroll down to watch the full video of our iconic music stars in iconic London locations.