Book Online & Save
Flexible Rescheduling
Instant e-Ticket
Book Online & Save
Flexible Rescheduling
Instant e-Ticket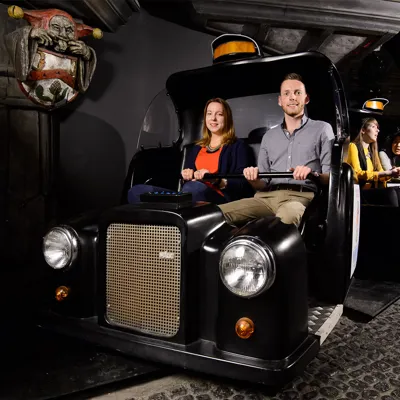 Journey through the capital's history
Jump into one of London's iconic black cabs on our 'Spirit of London' ride - an exciting journey through the capital's history. From the comfort of your taxi, witness the historical and cultural events that have shaped London into one of the greatest cities in the world.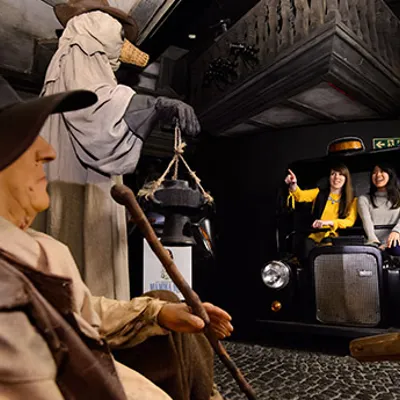 Relive Tudor England, see the streets being ravaged by the plague and catch the moment the Great Fire engulfed the city in flames. Emerging from the ashes is Sir Christopher Wren's masterpiece - St Paul's Cathedral. Encounter a monumental recreation of Nelson's Column, ahead of arriving in a city at war where the familiar voice of Prime Minister Winston Churchill calls out, rallying the nation.
Roll on the bright lights of the swinging 1960s in Carnaby Street and the vibrant colour of the 80s, before stepping out of your black cab and continuing your journey through the attraction.
Restrictions
Anyone under the height of 0.9m must be accompanied in the same taxi by an adult over the age of 16
Guests between 0.9m and 1.2m must be appropriately supervised (in adjacent taxi or the same taxi)
The ride is not advised for guests with torso measurements exceeding 51 inches
Maximum per taxi: 2 adults OR 2 children over 1.2m OR 1 adult and 2 children under 1.2m OR 2 adults and 1 child under 1.2m
Pregnant women – see a member of staff on the day for instructions on how to sit safely
Guests must remain seated during the ride
Accessibility – see a member of staff on the day for advice on boarding

This ride features strobe lighting and may not be suitable for all guests

The Spirit of London is a historical journey through London's History, whilst not designed to be scary there are some scenes that young children may find upsetting - parental advisory is advised. Please feel free speak to a member of the Ride Team on your visit who will be happy to advise you