Marvel at Madame Tussauds: Bringing Your Favourite Superheroes to Life
Friday 29th September 2023
Amar Arri
Marvel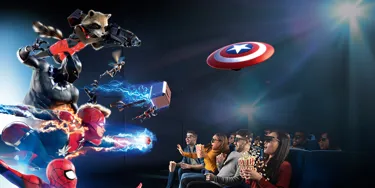 In a world filled with capes, shields, and epic battles between good and evil, the Marvel universe has captivated the hearts of millions. From the comic books to the silver screen, the Marvel franchise has left an undeniable mark on pop culture. And if you're a true Marvel fan, Madame Tussauds London has a treat for you – the Marvel Hall of Heroes. In this blog, we'll dive into the world of superheroes and explore how Madame Tussauds London brings these iconic characters to life.
Marvel, short for Marvel Comics, is a household name that needs no introduction. With a vast array of superheroes and supervillains, it's a universe that has left an undeniable mark on pop culture. From Spider-Man swinging through the streets of New York to Iron Man soaring through the skies in his suit of armour, Marvel's characters have captured the imaginations of millions of people worldwide.
Smack bang in the heart of London, Madame Tussauds pays homage to these beloved characters in the Marvel Hall of Heroes. Located amidst the bustling streets of the UK capital, this exhibit allows fans to step into the shoes of their favourite superheroes and experience the Marvel universe like never before.
Marvel at the Hall of Heroes
Come Face to Face with Iron Man
The Marvel Hall of Heroes boasts an impressive collection of incredibly lifelike figures. Among them, Iron Man takes centre stage. Standing tall and proud, this life-sized figure of Tony Stark in his iconic suit of armour is a sight to behold. Fans can get up close and personal, 'marvelling' at the intricate details that bring this iconic suit of armour to life.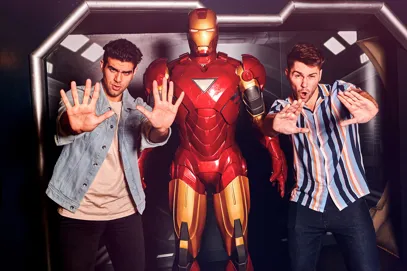 See How You Measure Up to Captain America
Another standout figure in Madame Tussauds London's Marvel Hall of Heroes is Captain America. This figure of Steve Rogers invites visitors to stand shoulder to shoulder with the super-soldier. It's a unique opportunity to see how you measure up to the hero who fought against the likes of Thanos himself!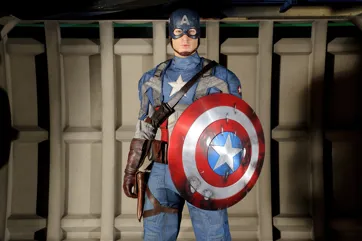 Check Out the Incredible Hulk, Madame Tussauds Highest Ever Figure
If you're looking for something truly monumental, be sure to visit the figure of the Incredible Hulk. This colossal creation is not only a visual marvel but also a record-breaker for Madame Tussauds London as our highest-ever figure. Towering over guests, the Hulk embodies the raw power and strength that fans have come to associate with this lovable, but very angry… character.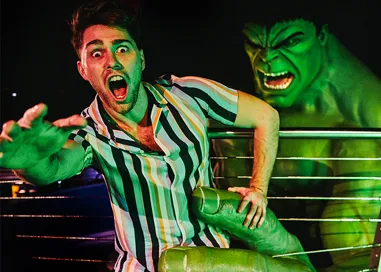 Meet Nick Fury as he keeps an eye on things…
Marvel at Madame Tussauds London couldn't be complete without the former Director of S.H.I.E.L.D himself - Nick Fury. Nick Fury, founder of The Avengers, is there to ensure the rest of the heroes keep in check. From recruiting them to faking his own death, no mission is too much for the Marvel legend. Nick Fury is always watching...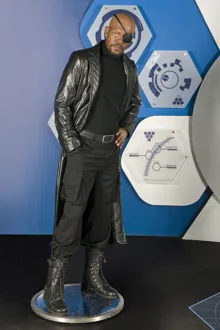 Bringing Marvel Heroes to Life
Madame Tussauds goes above and beyond to make these figures feel alive. Here are a few ways in which you can suit up and wield the power of the earth's mightiest heroes…
Feel Captain Marvel's Power with the AR Captain Marvel Experience
Step into Captain Marvel's world with an augmented reality (AR) experience. By using cutting-edge technology, visitors can truly feel the power of Captain Marvel coursing through them. It's an immersive encounter that allows you to tap into her cosmic abilities.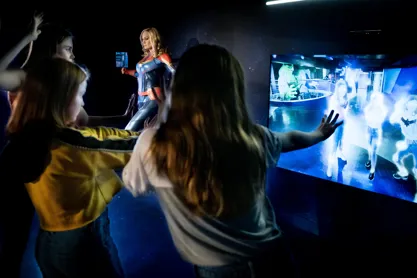 See Black Panther Glow with Vibranium
Black Panther's suit is legendary, thanks to its Vibranium construction. At Madame Tussauds London, we've replicated this mystical material in a way that makes it seem like it's truly glowing. It's a stunning effect that brings the King of Wakanda to life.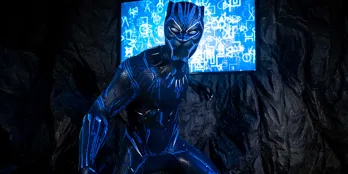 Hang Out on the Inverted Ceiling with Spider-Man
Spider-Man is known for his acrobatics and web-slinging stunts. At Madame Tussauds London, you can 'hang out' with our favourite web-head Spider-Man on an inverted ceiling, just like he does on a normal evening in New York. It's a gravity-defying experience that adds an extra layer of excitement to your visit and makes for a great photo!
Experience the Marvel Universe in 4D.
But the adventure doesn't stop with the lifelike figures. Madame Tussauds London offers visitors the chance to experience the Marvel universe in 4D. This immersive experience takes you on an action-packed journey with your favourite superheroes. Wind, water, and other special effects make you feel like you're right in the heart of the action. Be prepared to be blown away as you witness your beloved heroes in a whole new dimension as you suit up alongside them and defend the earth from an all-new threat.