Step into the history of Chamber of Horrors...
Friday 21st October 2022
Chamber of Horrors, Our History, Marie Tussaud, Marylebone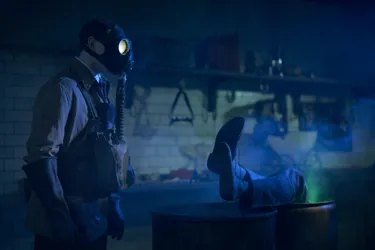 Originally opened in 1818 by our founder Marie Tussaud, Chamber of Horrors is now officially back in our attraction this October and this time it's set to stay. This chillingly intimate horror experience brings you unsettlingly close to some of London's darkest and most notorious criminals of the last 150 years, as well as their disturbing crime scenes and artefacts used in the crimes.  
To this day, the experience remains true to Marie Tussaud's original vision; only featuring individuals whose crimes had a significant impact on Britain's social and criminal history and were well documented by the media at the time. 
Over 200 years has passed since the chamber's debut but how did it come about? How did the home of fame also become the home of infamy? What's the story of the chamber?  
Chamber of Horrors history

 
The story of Chamber of Horrors best starts in 1793, during the French Revolution. Marie Tussaud, because of her association with French royalty of the time and her experience making wax figures, was tasked with making death masks of the revolution's victims, including King Louis XVI and Mary Antoinette. This was where she first discovered the public had a deeply embedded fascination with the darker sides of the humanity and horror.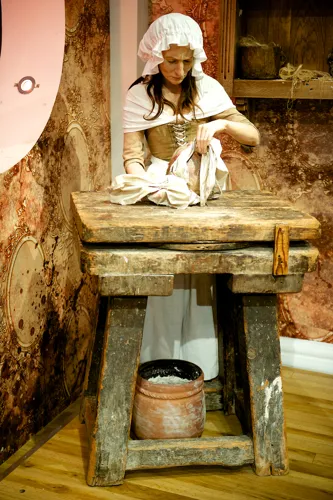 After inheriting an entire wax exhibition and workshop from her mentor, Marie and her son moved from France to the UK in 1802 in hopes of a fresh start. After touring the country extensively, displaying the death masks, relics and other macabre elements of her exhibition, her popularity began to grow. Marie had the only attraction that was based on pure historical fact and not on sensationalism. 
In 1818, Marie finally found a space that allowed her to showcase the darker elements of her exhibition in a separate room to her other figures. It then became a permanent feature where she displayed the guillotined heads of Robespierre, a scale model of the guillotine used on Mary Antoinette and other items of curiosity including an Egyptian mummy. After some time however, Marie found that British audiences had little interest in French history. She then began to tailor her figures to fit public interest; the first being Col. Despard who was executed for treason after conspiring to murder King George III. 
In 1835, the attraction moved to Baker Street which had a new designated space for Chamber of Horrors with even more authentic relics inside. Marie was incredibly dedicated to her craft and would only create a criminal's figure if she could see them in person, to get this she would attend trials and convictions at every opportunity. The chamber became a huge talking point in society receiving both negative and positive press. After her death in 1850, Marie's two sons inherited the attraction and immediately started expanding the chamber.  
Over the next few decades, the chamber grew and included many more figures of British criminals, including notorious murderer Mary Eleanor Pearcy. The launch of her figure drew in crowds of over 31,000 people resulting in Marylebone Road being blocked. New artefacts were also purchased to be displayed in the chamber including the Newgate Prison door, Mary Pearcy's pram and the Old Bailey dock.  
Through fires and bombings in the 20th century, Madame Tussauds London and Chamber of Horrors remained as strong and popular as ever. There were films and documentaries made about it and the space was constantly updated with new criminals. Approximately 200 named criminals have been displayed at Madame Tussauds London since 1802, including some of the most talked about in history such as Charles Manson, Adolf Hitler and Burke and Hare. 
Chamber of Horrors is a deeply embedded part of Madame Tussauds London history and part of the attraction's DNA. It shines a light on the darkest sides of humanity and the public's fascination with crime, bringing you face to face with true horror.