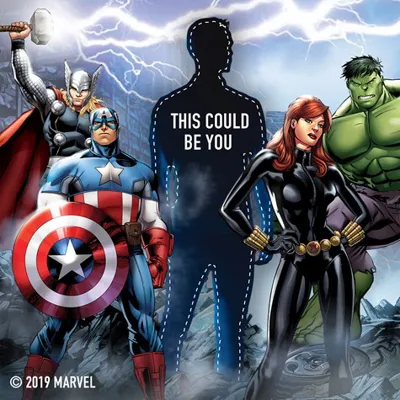 This is now closed.
Auditions open across six cities in search for a global star for the new Marvel 4D film experience at Madame Tussauds.
On 13th July 2019 Madame Tussauds London is hosting open auditions in search for one talented individual to appear in its new global Marvel 4D film experience, premiering next year (2020).
To be in with a chance of claiming this exclusive role in the 4D film, people must tell Madame Tussauds London why they should be the next Marvel star in 150 words or less. Successful applicants will then be hand-picked to don their favourite Marvel Super Hero costume and come to the Baker Street attraction on audition day (13th July 2019).
Whether someone is a budding amateur actor, major Marvel fan or fancies doing something a bit different in the city this summer, everyone dressed in costume will get the chance to come along and enjoy the Madame Tussauds experience for free.
Auditions are taking place in six cities across the world, starting with the home of Marvel in Madame Tussauds Hollywood and ending at the original Madame Tussauds in London.
How do I apply?
Applicants must email the following through to MarvelLondonSearch@madame-tussauds.com by Tuesday 25th June to be in with a chance of claiming an audition slot:
Name
Age
Contact details (preferred email, phone number)
Answer to why they should be the next Marvel star (In 150 words or less)
Attach a photo of themselves
Successful applicants will be contacted with full details for the audition on Saturday 13th July.
The judging panel is made up of:
Marvel Entertainment: Joe Quesada, Chief Creative Officer
Madame Tussauds: Jonathan Lewis, Global IP Licensing Director
Pure Imagination: Michael Black, Director
For more information see our FAQs and Terms and Conditions