Book online in advance and save up to 10%
Reschedule your tickets for free
Visit 3 top London attractions from just £45
Book online in advance and save up to 10%
Reschedule your tickets for free
Visit 3 top London attractions from just £45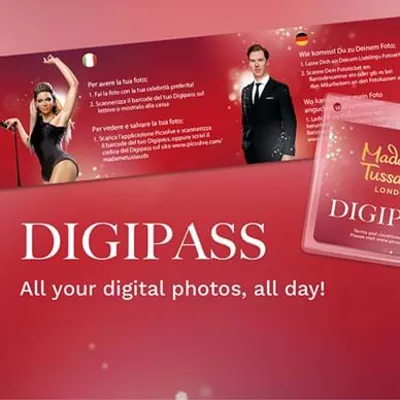 What is a Digital Photo Pass?
Remember the day you got up close and personal to all your favourite stars with a Digital Photo Pass!
As well as unlimited digital photos, direct to your phone, you will also receive exclusive behind the scenes images to share online.
To redeem, simply take your email confirmation to the nearest photo retail counter.
Terms and conditions:
The DigiPass holder must appear in the photo they wish to claim
The selfie you submit to the service must be of your face only
You must be over 18 to use this service
It is the DigiPass holders responsibility to download their associated photos within 90 days of the picture being taken. Any photos not redeemed within this time-frame will not be available to view and download as per our privacy policy.
The DigiPass is only valid on the specific date(s) and location of purchase
Number of additional stock images provided may vary
Photo quality can be affected by environmental and technical factors. Picsolve accepts no liability where this is the case.
If photos are missing, please submit a Contact Us form via the Picsolve website along with a clear, passport style selfie photo.
If the DigiPass is used by someone other than the holder, it may be cancelled without compensation. If we detect that an account has been used without the consent of the account owner, we reserve the right to remove the account without compensation.
Photography locations are subject to change and may not be operational every day. No compensation is available should you not be able to claim a photo at a specific location.
Once photos have been purchased and the watermark removed, no refund will be given.
For full terms and conditions, FAQs and Privacy Policy please visit picsolve.com.