Book online in advance and save up to 20%
Reschedule your tickets for free
Visit 3 top London attractions from just £45
Book online in advance and save up to 20%
Reschedule your tickets for free
Visit 3 top London attractions from just £45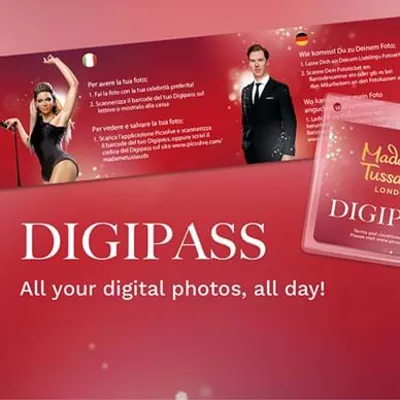 What is a Digipass?
Remember your day at Madame Tussauds London and take home all your digital photographs with a DigiPass.
As well as your DigiPass card, you will receive an information leaflet, lanyard and wallet to ensure you get the most out of your day. Not only that, but when you visit picsolve.com to download your images, you will gain access to additional Madame Tussauds London images including behind the scenes snaps of the making of our famous figures.
By buying your DigiPass in advance you automatically save 20% on all your digital photos but also 50% discount off individual printed photographs.
Head to the DigiPass collection counter in A-List Party to collect your DigiPass before rubbing shoulders with your favourite stars.
Terms and conditions:
It is not possible to retrieve digital photos not collected on the day the DigiPass is valid.
Number of additional stock images provided may vary and cannot be guaranteed.
Only valid on the day of purchase.
As the holder, it is your responsibility to look after your barcoded DigiPass and we cannot refund any lost or damaged DigiPasses.
Availability of photos can be impacted by technical factors. Full and partial refunds will not be provided where this is the case.
The DigiPass holder must appear in the photo they wish to receive.
Photographers (subject to availability) will take a photo of an individual or group as part of the offer, but must consider the needs of other guests so will not be obliged to take more than two photos.
Compromising or inappropriate photos will not be issued.
If DigiPass is used by someone other than the holder it can be cancelled without compensation.
Full or partial refunds are not available. This does not affect your statutory rights as a consumer.
For more information on how to use DigiPass and full terms and conditions, please visit picsolve.com.