Book online in advance and save up to 20%
Pre-booking essential
Visit top 3 London attractions for just £45
Book online in advance and save up to 20%
Pre-booking essential
Visit top 3 London attractions for just £45
Please note
The Marvel 4D cinema is currently closed, but you can still meet lifelike figures of your favourite Marvel Super Heroes!
Find out more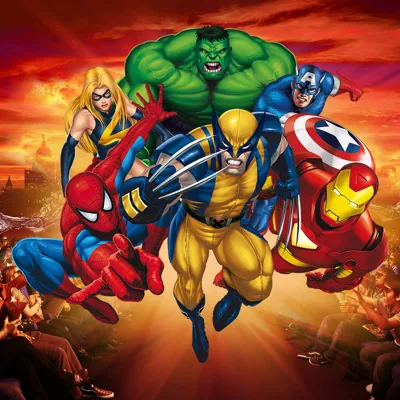 Set in London, the Super Heroes arrive to receive special bravery awards from the Queen only to find the Capital under threat from evil genius, Doctor Doom.  The deadly Doctor is intent on destroying the Super Heroes and their secret command centre and has created an army of lethal robotic accomplices to help him.  
Utilising the entire 70m circumference of the dome, Marvels Super Heroes 4D unites amazingly realistic 3D animation with state of the art digi-star projection and then adds in an extra-sensory fourth dimension.  The action spills out of the screen over the audience and thrill-enhancing special effects touch every sense, drawing you right into the heart of the adventure.   As the story unfolds the London skyline is vividly brought to life and you will literally feel the impact of the villain's invasion and the force of the Super Heroes' strength as they do battle. 
The film has been created by one of the world leaders in CGI feature films and 4D attractions, Threshold Animation Studios, working in close collaboration with Marvel.