THE BONDS ARE BACK!
Join all six James Bonds in celebration of the release of No Time To Die. The line-up has a 007 to suit everyone's taste – whether it's Daniel, Sean, George, Roger, Timothy or Pierce - with each of the men styled in quintessential Bond tailoring.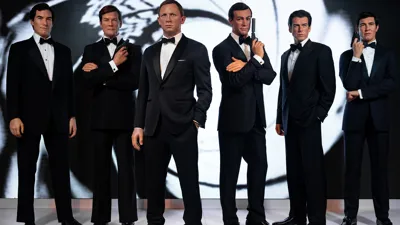 Katniss Everdeen
The wax figure of Katniss Everdeen, protagonist of the worldwide phenomenon The Hunger Games franchise, is featured in its own immersive setting.
Madame Tussauds, Film
Steven Spielberg
Sit in a director's chair and shout "ACTION!" alongside Steven Spielberg.
Madame Tussauds, Film
The Terminator
Stand alongside Arnold Schwarzenegger, portrayed as iconic character The Terminator.
Madame Tussauds, Film
ET
Meet the hero of Steven Spielberg's E.T. The Extra Terrestrial in his own interactive set!
Madame Tussauds, Film
Katrina Kaif
Dance next to Bollywood sensation Katrina Kaif!
Madame Tussauds, Film