New: Arnold Schwarzenegger cycles in the Vienna Prater
Monday 9th October 2023
Madame Tussauds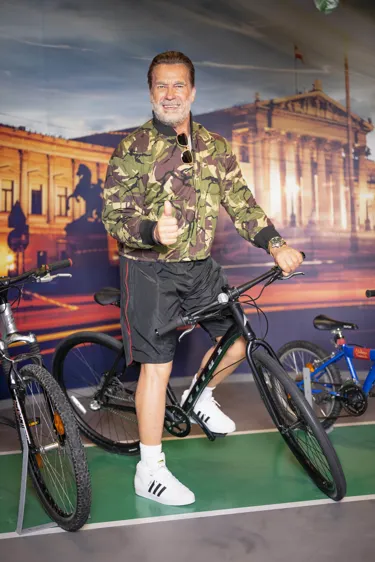 12 years after the first version, the 38th Governor of California received the second wax figure in Vienna's Prater in front of invited guests on Monday evening. He is thus the first personality in the Vienna branch to receive a completely new and revised version. The reason for this is, among others, his fans:
"Arnold Schwarzenegger continues to enjoy great popularity in our attraction and his figure is one of the most popular photo motifs for our visitors. At the same time, a lot has happened in his life in the last 12 years. Today, his great commitment is to environmental protection. Therefore, it is important for us to show him as we know him today, as an ambassador for climate protection, in an authentic setting," says Lukas Rauscher, Marketing Manager of Madame Tussauds Vienna.
The new version is depicted on a bicycle in the middle of the replicated Vienna Ring Road. Schwarzenegger is known for cycling to his annual Austrian Summits in Vienna. He has also been spotted on bike rides in his home of Los Angeles, as well as in other cities around the world.
The new lifelike wax figure of the "Austrian Oak" is wearing a camo quilted baseball jacket with black shorts. A three-day beard and a thumbs-up complete the overall picture.
Even Federal Minister for Climate and Environmental Protection Leonore Gewessler, who unveiled the figure, is enthusiastic: "Arnold Schwarzenegger uses his popularity to mobilise worldwide for climate protection," said Leonore Gewessler in her laudation. "We need many Climate Action Heros so that together we can master the climate crisis and create a good future for us all."
Schwarzenegger's long-term friend Peter Urdl also attended the unveiling and found only words of praise for the likeness: "I think the character is 1000 per cent. It feels like I'm standing next to Arnold".
Six months, more than 20 artists and almost 3,000 hours of work went into the production of the figure. The acrylic eyes were hand-painted, individually adapted to Arnold's eye colour and provided with fine saffron threads that serve as veins. The teeth were made by a dental technician and matched to his real teeth.
The brand new wax figure of Arnold Schwarzenegger is now on display in the Politics Room at Madame Tussauds Vienna. Tickets can be booked online right HERE .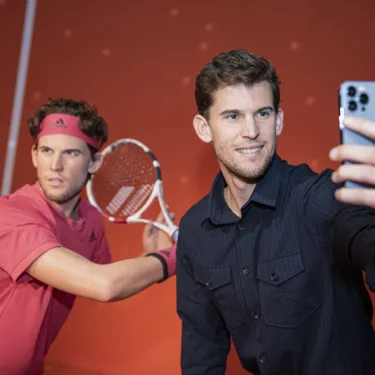 Dominic Thiem made of wax! Tennis star revealed himself
Dominic Thiem unveiled his first wax figure in front of numerous media representatives. The figure shows him in one of his greatest moments so far in his career: winning the US Open Grand Slam in 2020.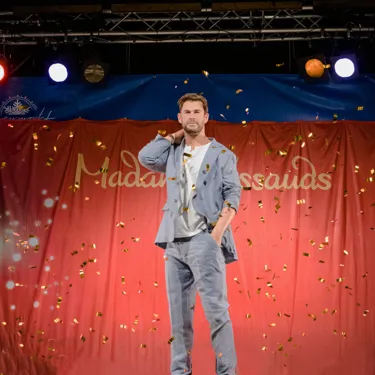 Chris Hemsworth wax figure unveiled at Madame Tussauds Vienna
G'Day, Chris! What is better than one Chris Hemsworth? Right, two! That's why on Monday evening, a new likeness of the handsome Australian was unveiled at the Prater Winter Market in Vienna, Austria.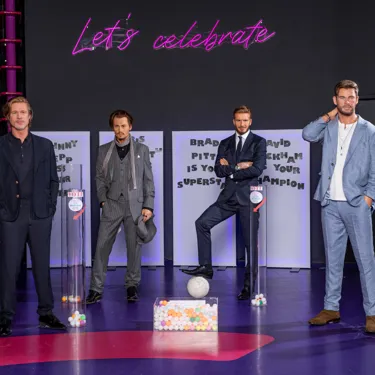 For limited time only: Sexiest Men Alive at Madame Tussauds Vienna
After the unveiling of the Chris Hemsworth wax figure in December 2022, David Beckham, Brad Pitt and Johnny Depp will join him and form the setting of the "Sexiest Men Alive" at Madame Tussauds Vienna.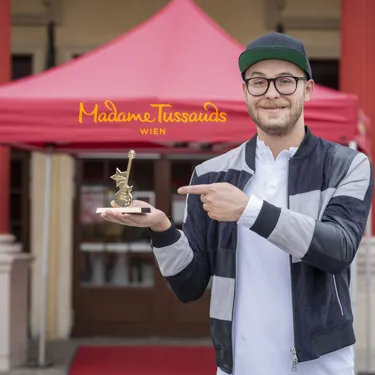 Mark Forster now at Madame Tussauds Vienna
Is it the real one or not? The answer is: No! It's the lifelike wax figure of the singer, which can be seen for three months in Vienna's Madame Tussauds in the Prater, starting today.