Impossible Festival Number Ones!
Tuesday 24th May 2022
Music Zone, Music Festival Experience, Impossible Festival, Music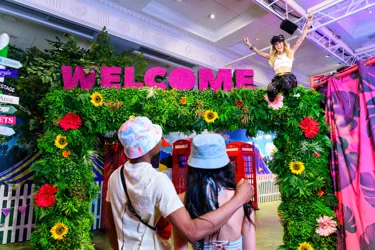 We kicked off summer with the brand-new opening of our Impossible Festival music zone! Complete with lights, cameras and all the backstage action you could imagine, the space is totally revamped, fully interactive and gives you the ultimate festival experience like none other. All our favourite international pop stars are on the line-up from Rihanna to Dua Lipa to Miley Cyrus, but it wouldn't be a truly impossible festival without a special appearance from artists who are no longer with us, such as London legends David Bowie and Amy Winehouse and King of Reggae Bob Marley. 
As the weather starts to heat up and we get festival ready, let's take a look at some of the hottest UK #1 songs from our Madame Tussauds London line-up...who do you think has the most?  
* stats are according to the Official UK Singles Chart 
1) Ed Sheeran

 
The 'King of UK #1s' title goes to none other than British legend Ed Sheeran. The singer-songwriter, born in 1991, started writing songs around the age of 11 and his talent transported him from success to success. The star's debut album '+' was released in September 2011 and topped the UK albums chart with his hit single 'The A-team'. Sheeran is the 2nd most streamed artist of the decade and has the most UK #1 singles of anyone in our Impossible Festival line-up, sitting on a total of 13! Yes 13!  
You can now jam with Ed in his backstage tent at Madame Tussauds London. You'll find him with his signature guitar and classic checked shirt waiting for you to join the action! Are you 'beautiful people' ready to 'sing'? 

2) Rihanna

 
Next up is...Rihanna! Yes of course the superstar and feminist icon would be taking the #2 spot. The singer has racked up a total of 9 UK #1 singles including 'Wild Thoughts', 'Umbrella' and 'We found love'. Despite not coming from a musical background, RiRi was discovered by a record producer then snapped up and signed by DefJam records. We've all witnessed her incredible music career, smashing record after record, and peaking on several charts but outside of the music, Rihanna has also dominated the fashion and cosmetics industry. She really does 'Run this town' right? Go on and 'Take a bow' Ri!  
Speaking of fashion, Rihanna's figure is styled in her Coachella 2015 iconic purple coat. She's hanging out in the festival crowds (as she's known to do) at our Impossible Festival, so you'll be able to pose next to the princess and get a selfie!

3) Ariana Grande
Ari is without a doubt a Grande addition to our festival line-up. With 7 UK #1 singles including 'Thank You Next' and '7 Rings' it's no surprise she's one of the best-selling artists of our generation. Her brand-new figure has arrived at Madame Tussauds London, and she's settled into her glam tent waiting to meet her fans! Ariana grew up in the spotlight and took singing and acting lessons from a very young age. She landed her breakout role on the Nickelodeon TV series 'Victorious' whilst also making music on the side. Her popularity and fame steadily increased and so did her career. Today, Ari is a world-touring, record-breaking pop star sensation! She's won six iHeartRadio Music Awards, five MTV Video Music Awards and three American Music Awards. 
Dressed in a stunning gold Versace dress replica, all Arianators can now dance with the diva to some of her best-known songs. Hit the buttons and take to the stage! 
4) Justin Bieber

 
Calling all Bielebers! This one's for you! 
The icon that is Justin Bieber enters our countdown also with 7 hot UK #1 singles, how many do you know? The story of Justin's rise to fame is an EPIC one and we owe it all to the powers of social media. Bieber was discovered through the YouTube videos his mother began posting of him during his younger years. Justin was then transformed from a young inexperienced singer to the platinum award selling artist he is today. In 2015, he scored his first UK #1 single with 'What Do You Mean' and only went up from there. 'Despacito', 'Sorry' and 'Love Yourself' were his next smash hits that topped the charts for several weeks. Justin's figure is ready and waiting to welcome you into our Impossible Festival. Party with your fave celeb? Never say never!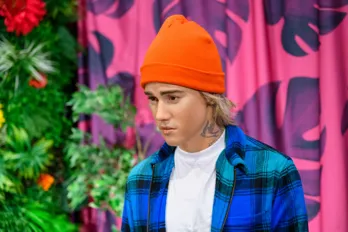 5) Lady Gaga

 
No UK #1 countdown would be complete without the Mother of the Little Monsters...our quirky queen...Miss Lady Gaga! The famous New Yorker, born in 1986, has a grand total of 6 UK #1 singles and we're 100% sure you've heard them all. Her debut album 'The Fame' was a HUGE success in the US and launched her into the international spotlight. Gaga experimented with her fashion and music, releasing #1 hits 'Telephone' and 'Bad Romance'. She then broke through into the acting industry, winning a Golden Globe for her role in American Horror Story and an Oscar for 'A Star is Born.' Gaga is a proud ally of the LGBTQ+ community and a champion for inclusivity which she expresses fully in her music. Come and find the icon in our brand-new music zone, she's got her 'Poker face' on and ready to 'Just dance'! Are you?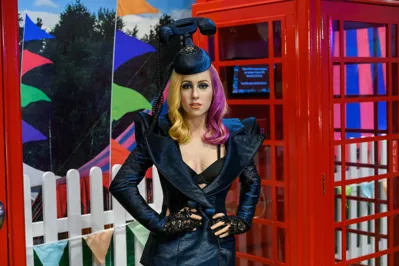 The Impossible Festival at Madame Tussauds London has some of the hottest names in the industry. It's the only place you'll be able to see stars past and present, genre to genre and country to country in one single place. Get your cameras and glitter ready...you won't want to miss this moment!