See Your Favourite Festival Stars at Madame Tussauds
Thursday 31st August 2023
Sydney Simmons
Music Festival Experience, Impossible Festival, Music Zone, Music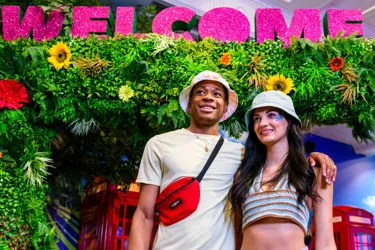 As Festival season draws to a close there is only one place where music lovers can explore London's rich music scene with a star-studded line-up here at Madame Tussauds London! Step into the captivating world of pop stars where beloved music icons, past and present, come to life all under one roof. With legendary headliners throughout plus a line-up like no other at our Impossible Festival, Madame Tussauds is the ultimate London music attraction to visit to cure you from your festival blues. Let's take a look at our hottest headliners…
Hottest Headliners
Stormzy
This list could not be complete without Stormzy and his multi record breaking Glastonbury debut in 2019. Not only was he the first grime act to headline the Pyramid Stage, but the first solo black British act and the second youngest person to ever headline Glastonbury Festival. The rapper used his performance to make some pretty powerful political statements with a BAME ballet performance, making a nod to the ongoing struggles of racial equality as well as being styled in a stab-proof vest to represent the rise in the UK's knife crime rates, designed personally for Stormzy by none other than Banksy. How could we not immortalize this iconic look!? You'll find Stormzy re-enacting his Glastonbury performance in a replica of the monochromatic masterpiece in our Impossible Festival as we pay homage to a moment that will remain a pinnacle part of British culture and music history.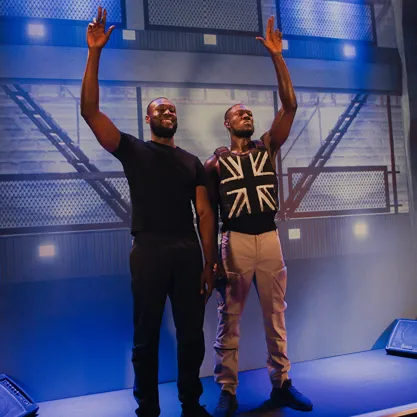 Beyoncé
It's no surprise that Beyonce is the ultimate headliner on our dream line-up. The 'Crazy in Love' singer and crazily talented Queen of pop has been crowned as the most Grammy awards ever to be won by an artist and is no doubt one of the greatest music artists of all time, which makes it no coincidence that she has performed at many festivals including T in the Park, Glastonbury, and Coachella. Queen Bey was the first female to headline Glastonbury in 2011, and extended her reign as she became the first black woman to headline Coachella in 2018.
Coachella was Beyonce's first performance after a two-year break from the spotlight and her hard-to-beat set wasn't the only reason why Queen Bey made such a powerful impact. From saluting to feminism and the women that paved the way before her to being dressed by Balmain in a fashion show of symbolic masterpieces that go way beyond an aesthetic outfit choice. Her hoodie read BAK to signify her solidarity with the change that needs to be made within equality for African American culture and her denim shorts pay homage to her first standout solo single 'Crazy in Love'.  Her jaw-dropping set went down in Coachella history as one of the best performances to grace the Californian stage, with special appearances from hubby Jay-Z, and a set list SO iconic the festival was nicknamed Beychella.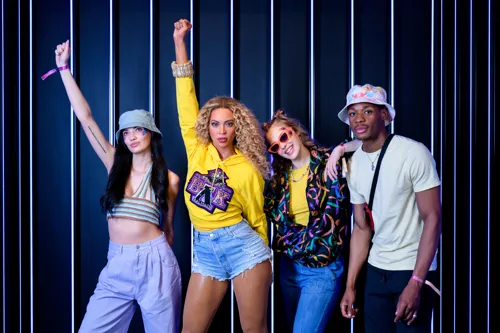 Lil Nas X
Of course we can't forget about our latest edition to the Madame Tussauds London line-up, the Industry Baby himself… Lil Nas X, and his ground-breaking impact on the music scene. This year saw the Montenero star headlining Glastonbury 2023 for the second time in his career, his debut being the same date as Stormzy in 2019. With his genre-bending hits and unapologetic expression, Lil Nas X has carved a distinct path in the industry with record-shattering singles such as "MONTERO (Call Me By Your Name)" and "Old Town Road" which redefined the boundaries of hip-hop and country music. Lil Nas X's 2023 Glastonbury performance featured a tightly choreographed set, with several dance numbers involving his fellow male backing dancers.
His performance displayed such openness with his sexuality and unwavering resolve to truly be himself, which is why the superstar is so beloved worldwide. We simply had to immortalise this trailblazer alongside our star-studded line-up. At Madame Tussauds London you'll find Lil Nas X's figure matching the precedent of his loud and proud personality, styled from head to toe in the head-turning hot pink Atelier Versace cowboy outfit he wore to the 2020 GRAMMY Awards. Lil Nas X himself also made a personal request for his figure to have his arm outstretched so fans could hold his hand as they meet him. As well as insisting that the figure include his sparkling iced out grillz, custom made by Alligator Jesus, specifically for his figure.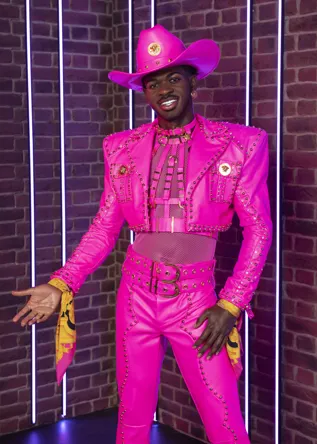 Festival Figure Favourites
Of course Stormzy, Beyoncé and Lil Nas X aren't the only immortalized stars at Madame Tussauds London to have headlined a festival. Our star-studded line-up celebrates more than the London music scene as it acknowledges the legacies of worldwide music artists, both past and present, with many of our figures headlining festivals globally.
David Bowie headlined the second ever Glastonbury festival in 1971, and headlined a second time in 2000 with Emily Eavis, co-organiser of Glastonbury at the time, declaring his set as utterly spellbinding – we can only imagine. Freddie Mercury and Queen performed at Live Aid in 1985 and in recent research has been declared the most iconic festival moment EVER, which in our books means they really are the champions of the world.
Whilst Dua Lipa was voted best new artist at the VO5 NME and MTV EMA awards in 2017, it was also the year she made her Glastonbury debut and her career launched from best new artist to global A-lister. You'll find her figure in our Impossible Festival where she donated the exact outfit she wore for her Glastonbury performance. Lipa headlined Primavera Sound in Barcelona in 2022, where she was the most streamed artist at the festival and went on to sing at Lollapalooza festival the following month.