AJ Pritchard takes on Anthony Joshua at Madame Tussauds London
Monday 17th February 2020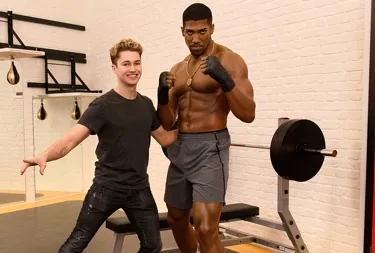 Our brand new Anthony Joshua figure has been exclusively unveiled by AJ Pritchard of BBC's Strictly Come Dancing, just in time for February half term.
Coming in at a mighty 6'6", the British boxing icon's first-ever figure joins our Sport zone, amongst the likes of Usain Bolt and his own boxing hero, Muhammad Ali.
Light on his feet from the get go, the 5'6" ballroom pro, AJ, squared up to Joshua to share some dancing insight and secret moves that he can add into his training routine. Whether it was fancy footwork or ducking and diving, both of the AJs skills are unparalleled in their fields.
With Joshua's next eagerly-awaited fight heavily rumoured to be in the capital this June, his figure will be housed in a specially built training space in Madame Tussauds London's Sport zone. Guests can feel what it's like to prepare pre-fight with the boxing champion for another knock out win and square up to his giant stature before capturing the perfect selfie.
On coming face to face with Madame Tussauds London's largest figure to date, AJ Pritchard said "Having watched so many of Anthony Joshua's fights with my brother Curtis, who is a massive boxing fan, we both noticed how similar some of the skills are to ballroom and Latin dancing.
"I'm so glad I was able to help unveil Anthony Joshua's first-ever figure to the world and share the dance training tips that I would give to him. Being a fellow AJ rocks! "
Steve Davies, General Manager at Madame Tussauds London, said: "We have been planning a figure of our homegrown hero, Anthony Joshua, for a while and his win against Andy Ruiz Jr further secured his status as a titan of British sport.
"We've brought together the country's two most famous AJ's for the ultimate face off. On the surface boxing and dancing appear to be worlds apart, but with their fancy footwork and intense training, AJ Pritchard has shown us just how similar the two crafts really are." 
Wannabe boxers can book their tickets here.