Alien: Escape launches at Madame Tussauds London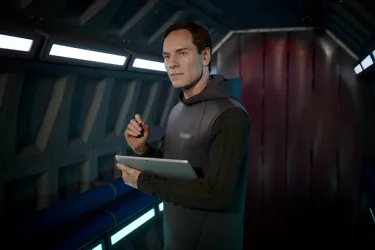 On Saturday 15th July Madame Tussauds London unveiled its brand new immersive Alien: Escape experience, set to terrify willing guests this summer. Generations have watched the iconic film franchise and now, thanks to the London attraction, brave wannabe crew members can step on board the Covenant ship and come face to face with the iconic Xenomorph.
Created in partnership with Twentieth Century Fox, the new experience follows the release of the critically acclaimed blockbuster film, Alien: Covenant and challenges guests to navigate a trail of blood, gore, chaos and danger. The mission is simple: Run. Survive. Escape.
Meet Michael Fassbender's first wax figure, in character as next generation Weyland-Yutani synthetic Walter, as you embark on your gruesome quest. He will check your vital signs before you board the ship. The multi-sensory fright-fest will also take some of the most infamous and petrifying sci-fi creatures ever to hit our screens and place them in front of guests in all their heart-racing and bloodcurdling glory.
Are you brave enough to enter Alien: Escape? Do you have the courage to journey out the other side? You will run, you will scream, but will you escape?  Get a real-life taste of the famous franchise through Madame Tussauds London's Alien: Escape experience…if you dare.
Alien: Escape is included in all ticket types to Madame Tussauds London.