Angry Birds 'launching' May 7th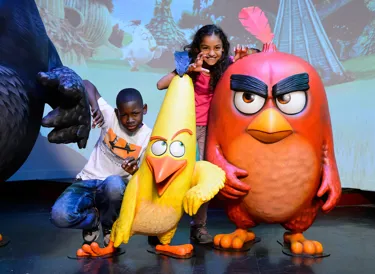 Angry Birds Movie stars crash land in town for special appearance at Madame Tussauds London
A few lucky guests were 'tweeted' to an early preview of Madame Tussauds London's first-ever digital experience, which opens this weekend (May 7th), starring larger-than-life figures of larger-than-life Angry Birds, Red, Chuck and Bomb. Fans get to interact with the stars of the much anticipated The Angry Birds Movie (released on Friday May 13) digitally, with an animated  backdrop bringing to life key moments from the film, as well as physically, with the characters' colourful new figures.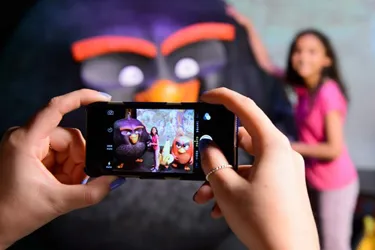 Nine year old, Malachi John, gave the experience a big thumbs up: "I play the Angry Birds games and cannot wait to see the movie. The trailer looks hilarious and the animations here are brilliant. The birds pop out and talk to you and you can put your picture in the backdrop. It's so fun."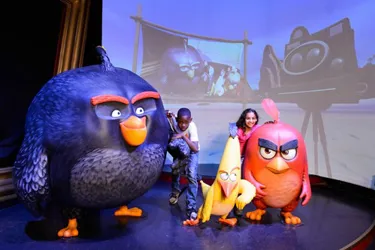 Last week, birdwatchers and joggers in Regent's Park were left speechless, as The Angry Birds Movie stars - Red, Chuck and Bomb - made an unscheduled stop en route to Madame Tussauds London, direct from Bird Island.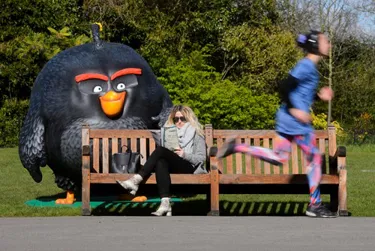 The trio will be causing a commotion back at the attraction from Saturday May 7th, becoming Madame Tussauds London first digital experience, as animation and smart technology bring key moments from the movie to life in an astonishing 3D landscape. Guests get to interact with the birds, in their digital and physical forms, and use their mobile phones to take part in the action too.
Red, Chuck and Bomb will be starring at Madame Tussauds London until July, when they will be catapulting out of the UK to tour Madame Tussauds attractions around the world.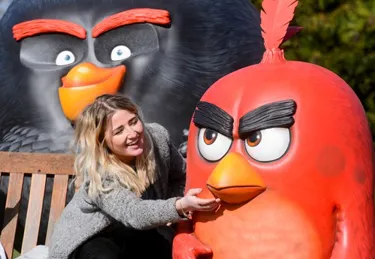 Developed in close collaboration with Rovio Entertainment and produced for the attraction by leading innovators in brand experiences, ps Live, Angry Birds at Madame Tussauds will digitally bring to life one of the key scenes from the film in a 3-D backdrop and guests can step in, interact and star alongside Madame Tussauds' figures of explosive Bomb, speedy Chuck and furious Red.  
"The aim is to create a living, breathing space that gives guests a real taste of the film," explains Kieran Lancini, Global Head of Media Relations for Madame Tussauds. "The digital content will change frequently and guests can take a selfie with Red, Bomb and Chuck and share them live. It's an exciting and new type of experience for Madame Tussauds and we are delighted to be working with Rovio to bring the colour, imagination and mischievous fun of The Angry Birds Movie to life."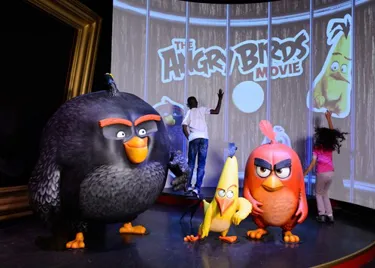 The experience continues Rovio's mission to bridge the digital and physical worlds and extend the Angry Birds brand from its gaming origins. "We already have Angry Birds activity and play parks as well as theme park attractions, but Angry Birds at Madame Tussauds is something totally new," commented Alex Lambeek, Chief Commercial Officer at Rovio Entertainment. "It really does marry the digital world with the physical, as animation and smart technology bring the movie to life around guests. And of course, Red, Chuck and Bomb get starring roles with their own Madame Tussauds figures taking centre stage.  It's a truly memorable and different way to interact with the Angry Birds and sample a scene from the film in a fun environment."
Guests can have a blast with Bomb who stands at a majestic 6 feet tall (183 cm), plan battle strategy with leader of the flock Red and join Chuck in one of his favourite hobbies - posing.   The Angry Birds Movie opens nationwide on 13th May.