Bo Jo Is Back!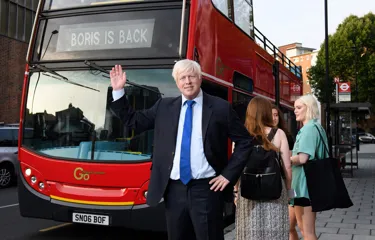 Boris Johnson's figure stages a comeback at Madame Tussauds London             
24th July 2019: The new Prime Minister of the United Kingdom has staged an almighty comeback at Madame Tussauds London. The 2009 figure of Boris Johnson celebrated a-top a London bus before re-entering the attraction to take over the empty space in front of the world-famous attraction's Downing Street set, following Theresa May's own figure departure last month.
This marks the first time in the attraction's history that the figure of a Prime Minister has stood in front of the replica Number 10 door without being voted in through a general election. Boris' figure originally launched ten years ago during his tenure as London Mayor, and will still showcase the attire donated by the man himself – a navy suit and matching blue shirt and tie (even featuring a repaired tear in the left trouser from his bicycle).
Steve Davies, General Manager at Madame Tussauds London said: "It is fair to say the British government has kept us on our toes these last two years. Theresa came, she went…and now we have Boris reprising his place on the world stage after all this time. He once said his chances of being Prime Minister were as good as finding Elvis on Mars, so I guess we better start building our 'Elvis on Mars' set then."
The figure of Boris Johnson surprised commuters as he sped over Westminster Bridge this morning, following the Conservative vote that placed him in power yesterday.
Guests can see Boris's figure alongside President Trump's in a world-first at Madame Tussauds London from tomorrow (25th July). Though there is no telling how long he will be there…