A licence to thrill - the Bonds are back!
Monday 27th September 2021
James Bond, No Time To Die, Daniel Craig, 007, Sean Connery, Pierce Brosnan, George Lazenby, Timothy Dalton, Roger Moore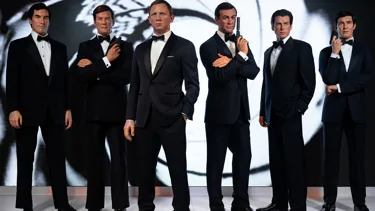 Ahead of the much-anticipated release of the new James Bond film, No Time to Die,  today we have announced the return of all six of the actors' figures who have played the legendary British spy on film. 
The return of the figures to Madame Tussauds London will see all six Bonds take up permanent residence in our film zone. The figures have returned to London in time for the 25th Bond film, which is due for release on 30th September in the UK.
Fronted by the incumbent 007, Daniel Craig, the dazzling line-up has a Bond to suit everyone's taste – whether it's From Russia With Love's 1963 styled Sean Connery, George Lazenby's solo Bond outing in 1969's On Her Majesty's Secret Service, seven-time 007 Roger Moore's 1977 The Spy Who Loved Me, Timothy Dalton's 1989 outing in License to Kill or Pierce Brosnan's 1997 turn in Tomorrow Never Dies.
Styled in quintessential Bond tailoring, all six 007 figures were created using measurements taken from the leading men themselves across a number of years. 
Tim Waters, General Manager at Madame Tussauds London, said: "James Bond has been a legend of the big screen for almost 60 years and the excitement for this long-anticipated 25th instalment in the epic film franchise is palpable. We wanted to be part of this historic moment in a way that only Madame Tussauds London can. By reuniting Craig, Connery, Lazenby, Moore, Dalton and Brosnan, fans across the generations get the inimitable opportunity to meet their favourite 007 – all in the same place, at the same time."
You can see all six Bond figures at Madame Tussauds London from Thursday 30th September. Book tickets here.