Colossal Kong makes a ROARING Entrance alongside new Tom Hiddleston figure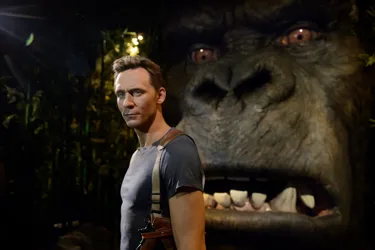 Today we unveiled our exciting new Kong: Skull Island experience with a thunderous roar as an eighteen-foot animatronic head of monstrous beast Kong touched down in a bamboo-laden jungle. Taller than a double-decker bus and as loud as a landing Boeing 737 jet, this new addition allows you to come face-to-face with one of the most powerful creatures in cinematic history. 
In partnership with Legendary Pictures and Warner Bros., the interactive Kong head took 33 engineers 72 days to build and weighs in at over 3,000lb – heavier than 10 real-life gorillas. Visitors will even be tracked on their jungle journey by the beast's 22-inch-wide eyes, fitted with laser radar motion sensors. 
Joining you on your adventure as you evade the traps of Skull Island will be Hollywood heart-throb Tom Hiddleston's wax figure, depicted as the film's protagonist Captain James Conrad.
"We're elated to have this unique opportunity to bring fans into the mysterious world of Skull Island and face-to-face with Kong himself, said Legendary CMO, Emily Castel.  "The level of detail that Madame Tussauds has put into both Kong and the Captain James Conrad character figure truly promises guests a fully immersive experience that won't soon be forgotten."  
Edward Fuller, General Manager at Madame Tussauds London, said: "This experience is as close as fans can possibly get to meeting a living, breathing Kong. Creating an animatronic of this size is a first for our attraction, it's not often we reveal a new addition that stands taller than 5,000 stacked Oyster cards. We've worked closely with Legendary and Warner Bros. to ensure the experience is as accurate to the film as possible. Guests will be transported on an adventure with man of the moment, Tom Hiddleston, and literally feel the roar of Kong, king of the jungle."