Dame Helen Mirren's 70th Celebration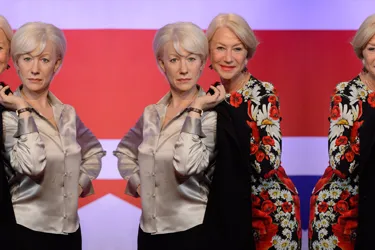 One of the World's best-loved actresses, Dame Helen Mirren joined THREE wax figures of herself at Madame Tussauds London last night as she viewed a special display staged by the world famous attraction in celebration of her recent 70th birthday.
The British icon is portrayed in two of her most famous roles, as Prime Suspect's detective Jane Tennison and in her Academy and BAFTA award-winning role as The Queen as well as her glamorous red carpet self, wearing a dress the actress donated for the figure herself.
Dame Helen was delighted, and commented: "This is amazing, I feel like my husband looking at me! It's like having three sisters, I love it".
When asked about her favourite, she gestured at her 'red carpet' figure and added "I love this one, it's very 'me', I look happy". She said about her other two figures "The Queen outfit is very like my costume" and "Look at the eyes of Jane Tennison, very fierce, it's excellent".