Deepika Padukone unveils her FIRST EVER figure at Madame Tussauds London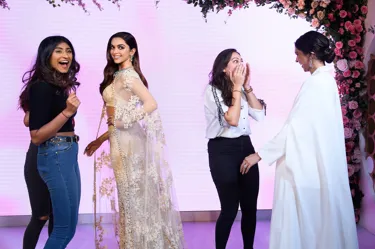 Fans of global sensation, Deepika Padukone, were left seeing double at Madame Tussauds London today as the star visited the Baker Street attraction to officially unveil her first ever figure.
The surprise appearance thrilled a select group of fans who had been invited along to get a sneak peek of Deepika's likeness before the attraction opened to the public. Little did they know that the star herself would join them.
Renowned for her starring role in films including Piku, Padmaavat & XXX: Return of Xander Cage, the actress has been involved in the creation of her figure from the outset and has even donated the glamourous gown that she wore at the 2016 IIFA Awards.
Expressing her thoughts, Deepika Padukone said, "As a little girl, I was a very curious kid. For me, purpose is something that is very important. However big or small, whatever I am doing in my life, purpose and why we do what we do is very important to me. After I got a call from Madame Tussauds London I was really happy and excited but over a few days, I thought what is the purpose of this? Why are we doing this, or what is it that my fans will remember me for, remember my figure for, what is it that I would like to leave behind?"
Deepika continued: "The cause of mental health is very close to my heart. It is something that I am extremely passionate about. I said that's it, I would like for my fans, when they see my figure, I hope it reminds them of someone who did something for the cause of mental health, who worked towards creating awareness and destigmatising mental illness. I hope that it gives people a sense of upliftment and a sense of hope. I hope that message comes through."
The launch of Deepika's figure coincides with the arrival of a new interactive dance wall in our A List party room, where guests can take part in virtual dance coaching sessions to perfect their skills.
Visiting Madame Tussauds London for the first time since her childhood, Deepika brought along her family to mark her official induction in to the world-famous attraction. Millions of Deepika's followers across the globe were also able to get in on the action as the star live streamed moments from the big reveal.
Deepika fans should also keep their eyes peeled for a second figure to be unveiled at Madame Tussauds Delhi later in 2019.